Hamilton: Gary Woods suffers lacerated kidney in 'freak accident'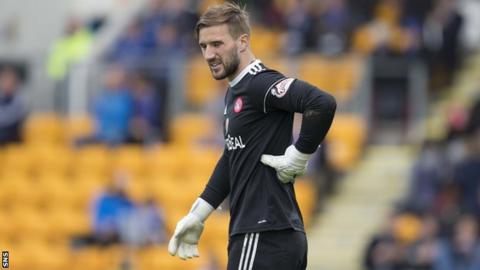 Hamilton goalkeeper Gary Woods will miss Friday's game with Rangers after lacerating a kidney in a "freak accident", says manager Martin Canning.
The 26-year-old could be out for up to a month after suffering the injury during Saturday's loss to St Johnstone.
"He had bother with it over the weekend and went up to hospital," Canning said.
"They're keeping him in for 48 hours to keep an eye on him. They don't think it will be anything major, but it will definitely put him out of Friday."
Hamilton's medical staff believe the goalkeeper may have suffered the injury "just by landing heavily" during last weekend's game.
Canning will also have to do without defender Georgios Sarris, who is expected to be out for up to six weeks following a knee operation.
Meanwhile, the Hamilton boss is grateful for the support of the club's board after Jim McIntyre was sacked by Ross County seven games into the Premiership season.
"I was surprised to see Jim lose his job, but that just seems to be the way modern-day football is now," Canning said. "You get a couple of bad results and the manager goes.
"I know Macca well and he's a good guy. It's disappointing to see any manager go, especially one who has brought relatively good success to small club like County.
"Under him they finished sixth and seventh and won a cup too, which is good going up there.
"I know my objective is to stay in the league each year. If we do that, we see that as success for us. But when you look at Ross County, where they have finished and their result with the League Cup, you'd say that is success for them.
"We've been fortunate here that when we've gone through sticky spells the board have stuck by us. That's great, but we know ultimately it's a result business and we cannot ever afford to take that for granted."