Brendan Rodgers: Celtic's possession stats the best in Europe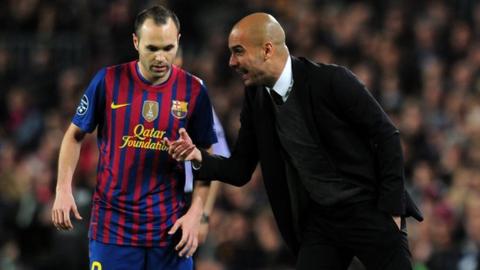 For some, Pep Guardiola's awe-inspiring success at Barcelona between 2008 and 2012 underlined the theory that possession football is sacrosanct.
But since Guardiola's departure for Bayern Munich, and now Manchester City, the Catalan club, who won 14 trophies under Guardiola, have been usurped.
They are no longer the kings of possession in Europe. Instead, that crown belongs to Brendan Rodgers' Celtic team.
According to statisticians, Rodgers has taken it to the next level at Celtic Park, where he won a treble in his first season and reached the Champions League group stages.
The CIES Football Observatory has analysed the percentage of ball possession since the start of the season for teams from 35 national competitions.
And the highest overall figure was recorded by Celtic - 70.8%.
That's more than Guardiola's current club Manchester City, and his former, Barcelona. It's higher than Arsenal, where Arsene Wenger has had 21 years to perfect his art, and Ajax - a club renowned for its history of principled possession play.
During the study period, Celtic completed 659 passes per match compared to an average of 196 for their opponents.
And the Glasgow club are joined on the list by some surprising fellow British sides. Brentford, who are currently 20th in the Championship, also make the possession table - even if they are 81st with 56%.
Championship club Reading are 38th (59.4%) - above Porto, Roma and Marseille - while Scottish Premier League outfit, Aberdeen, are 45th (58.6%).
Another Scottish side, Hibernian (56.2%), are joint 73rd alongside Inter Milan, while Rangers are 87th (55.6%).
As for Celtic, they made 7.1 passes per possession phase, while their opponents only achieved three. The average duration of a possession was 23.5 seconds for Celtic and only 11.1 seconds for their opponents.
The CIES noted that teams from the bigger leagues - in England, Spain, France, Germany and Italy - all performed well, which makes Celtic's achievement even more impressive.
Reflecting on their findings, the CIES said: "Big-Five league clubs are over-represented in the top positions of the rankings.
"This reflects the greater technical ability of their players, as well as the stronger importance given to possession in the playing philosophy of a higher proportion of teams."