Hearts: Lafferty knows what's at stake, says Budge of player's gambling problem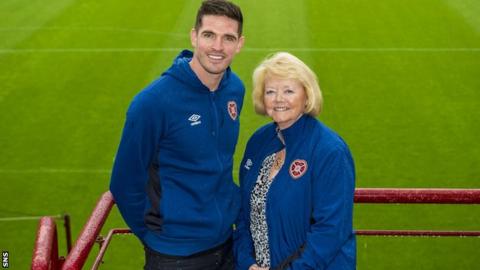 Hearts owner Ann Budge has told BBC Scotland she believes Kyle Lafferty now realises he could lose everything if he does not address a gambling addiction.
Budge says the player has Hearts' "total backing" after admitting the extent of his problem first to the club and then in a BBC interview.
"He's sensible enough," said Budge.
"Maybe he's grown up a little bit over the last few years to realise this sort of addiction can totally destroy his life, his career and his family."
Budge says the Northern Ireland international, 30, has "built a very successful career while dealing with the problem".
Lafferty has played for Burnley, Rangers, Sion, Palermo and Norwich City among others.
"The difference at this stage is he recognises just how serious the problem is," she explained.
"It's not something that's going to go away and it's not something he can necessarily manage to the extent he'd want to."
Asked whether she'd have signed Lafferty had she known the extent of his problem, she said: "The first time I met Kyle, I said to him 'ok Kyle, I've Googled you, why should I take you on board?'
"We all know he's had an interesting life. He did, quite rightly, point out with a smile on his face, that if I'd Googled him I'd know that as well as some of the not-so-good things, he's done some really quite good things as well.
"That's exactly it. None of us are whiter than white. We've all got a little bit of history."
Speaking earlier on Hearts' website, Budge said Lafferty had taken the "the enormously brave step of coming to the club and asking for help".
"He has earned our great respect for doing so," she added.
Lafferty signed for the club in June, and has since made 10 appearances, scoring six goals.
He received a £23,000 fine from the FA in August last year after placing a bet on two Spanish football matches, but has since bet regularly on horse racing.
Lafferty has opened up to Budge, Hearts manager Craig Levein, coach Austin Lafferty, Northern Ireland manager Michael O'Neill and also John Hartson, the former Celtic and Wales striker who has spoken openly about his own battle with gambling addiction.
"On behalf of everyone here at Heart of Midlothian Football Club, I would like to formally record our total support for Kyle Lafferty as he moves forward to deal with his acknowledged addiction to gambling," Budge said in her statement.
"No-one should underestimate how difficult that decision was for him and his family. However, as is well recognised, the first step to dealing with a problem of this nature is to acknowledge that the problem exists.
"It is a testament to the great footballer and character he is, that he has in no way allowed his personal battle to affect his performance on the training ground or on the football field. Kyle will continue to train and play as normal.
"Heart of Midlothian has a tremendous fanbase that follows the team in huge numbers both home and away.
"They have taken Kyle to their hearts since he joined the club in the summer and I have absolutely no doubt that they will continue to back him as we all strive to help him deal with this enormous personal problem."
The players' union, PFA Scotland, is urging any footballer who suspects that a team-mate may be suffering from an addiction problem to seek help using their national 24-hour support line.
"We always make players and managers aware of the support line," said PFA spokeswoman Michelle Evans.
"If you're worried about a team-mate you can contact this number and get advice and how you can maybe make them come forward and get help."
'I've assured him he has my full support'
Lafferty's international manager O'Neill also later released a statement in support of the striker.
"I admire Kyle for speaking so openly and honestly about his battle with gambling," O'Neill said.
"We have talked about it at length and I have assured him that he has the full support of me, my staff and everyone at the Irish Football Association as he aims to overcome this addiction."