Gillingham: Owner Paul Scally seeking 'off the wall' manager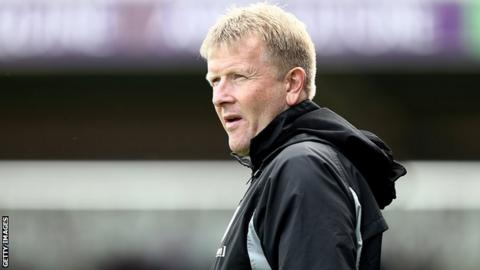 Gillingham owner Paul Scally says he is looking for someone "a little bit off the wall" as the club's next boss.
Scally also ruled out Peru coach and former Newcastle midfielder Nolberto Solano, who had been linked with the League One side's vacancy.
The Gills fired former head coach Ady Pennock on Monday with the club 22nd in the table.
"We could bring in Jose Mourinho and it might not work out for him, and this is the problem," Scally said.
"I'm talking to some fairly significant investors right now for a very different future for the club especially with the new stadium and development, so I have to take into account the potential for what the investors might be considering as well if indeed they come in."
Director of football and former Gills manager Peter Taylor, who returned to the club in May, has been placed in interim charge.
"It may well be that we look at a short-term fix until December or the end of the season, or it may be that we look for someone for the next two and a half years," Scally told BBC Radio Kent.
"I kind of feel that we need a manager who's a little bit off the wall, someone who's got some experience perhaps but who can motivate and get the squad really sort of buzzing."