Tomer Hemed: Brighton contest charge over DeAndre Yedlin incident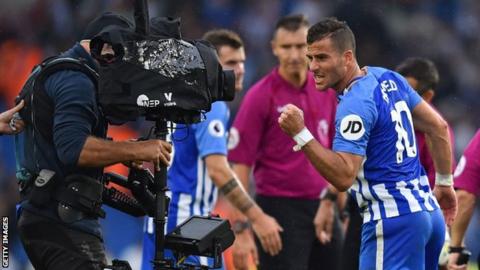 Brighton have contested Tomer Hemed's charge of violent conduct, handed to him by the Football Association after Sunday's game with Newcastle.
The 30-year-old Israel international, who scored the winner in his side's 1-0 victory, is alleged to have stamped on defender DeAndre Yedlin in the 88th minute.
The striker could face a three-match suspension if found guilty by the FA.
It is thought the Seagulls will claim the incident was not deliberate.
Brighton boss Chris Hughton defended his player after the match, saying: "My very first impression is there was no intent.
"There has been contact but my first impression is no intent and, knowing the individual, I would say no intent."
Off-the-ball incidents that are not seen by match officials at the time are referred to a panel for assessment.
Each member of the panel is a former elite referee and they will review the video footage independently of each other to determine whether they consider it worthy of a red card.
For retrospective action to be taken, and an FA charge to follow, the decision of the panel must be unanimous.