Fifa poppy ban: Gordon Strachan and Michael O'Neill want 'common sense'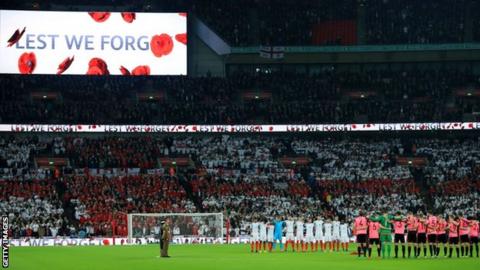 Scotland manager Gordon Strachan and his Northern Ireland counterpart Michael O'Neill want "common sense" to prevail over the ban on teams displaying poppies.
Last year, Fifa fined all four home nations for their use of the poppy to commemorate Armistice Day, deeming it to be a political symbol.
But the ban is now set to be lifted by world football's governing body.
"If it gets ratified, that's just common sense," said Strachan.
England and Scotland wore the emblem on black armbands during their World Cup qualifier at Wembley last November.
Wales and Northern Ireland were fined for displaying it in their stadiums.
The row drew criticism from UK Prime Minister Theresa May, who called Fifa's stance "utterly outrageous".
After it emerged Fifa was set to end the ban, a Downing Street spokesperson said: "We look forward to hearing from Fifa that this ban is going to be formally lifted."
Last week, Fifa is understood to have sent out a draft proposal to its member nations with revised provisions that could see the poppy permitted if opposing teams and the competition organiser for the relevant match both accept its use in advance.
The new law is expected to be in place for November's international games, a period that incorporates Remembrance weekend.
Northern Ireland will face Germany on 5 October and Norway three days later in World Cup qualifiers, and O'Neill said of the poppy row: "I don't get involved in the politics of the whole thing. It's a decision for the Irish Football Association.
"Whatever decision the IFA makes I just want it to be something that doesn't attract the level of media interest that it did last time."
When asked if common sense should prevail, he replied: "I would hope so, yeah."
The Football Association and the Football Association of Wales have declined to comment until the decision has been ratified by Fifa.