Chris McLaughlin's words of the weekend: 'too soon to judge McCulloch as a manager'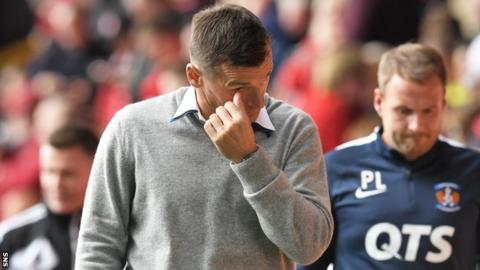 BBC Scotland's senior football reporter, Chris McLaughlin, analyses a talking point from the weekend's action, asking what's behind the words.
Lee McCulloch after Kilmarnock's 3-0 defeat by Ross County:
"No I don't [feel under pressure]. Of course we will [bounce back]."
Just a few hours after these words, Lee McCulloch became the Scottish Premiership's third managerial casualty in a season only eight games old. The former Rangers and Scotland player has enough experience of modern-day football to understand boardroom expectations.
The man who was appointed after taking interim control last year was clearly still finding his managerial feet - a quick glance at this year's table and results provides the proof of that.
Just three points from a possible 24 looks like more than just bad luck. The departure throws up the usual questions but, like always, the answers are much harder to find.
When McCulloch took the role formally in June, following a successful interim spell, Kilmarnock director Billy Bowie described it as an "excellent appointment for the club" and asked the fans to get behind the new manager.
They had taken what seemed like an age to make the appointment in the first place but when it came, it seemed like the right fit. Now, not so much and "excellent appointment" has made way for "thanks for the dedication".
In football we raise an eyebrow, shrug a shoulder and move on. But at what cost?
Good managers can have bad results - even worryingly long runs with bad results - but pedigree usually pays off and form returns. When it doesn't, we see good managers become average managers and reputations, like job offers, will slide.
Just ask someone like former Everton and Manchester United manager David Moyes. But what happens when you have no reputation to fall back on? Should the rookie be given more time by the very people who have taken the gamble?
If Celtic manager Brendan Rodgers is as good as his results in Scotland suggest he is, then you'd assume he's a man worth listening to when it comes to football management.
After Celtic's 2-0 win at Rugby Park last month, Rodgers was glowing in unprompted praise of McCulloch. "He is very forward thinking, he wants to do the right things, coach the right way and be organised," said the the Celtic boss.
Kilmarnock supporters may well beg to differ. Their frustration was clear after the latest defeat at home to Ross County. Fans may be fickle, but for most managers, the sound of booing at full-time will ring like an alarm bell. Unfortunately for them, directors hear it just as loudly and that's bad news for those in the dugout.
But as the window of opportunity given to managers to prove themselves becomes narrower and narrower, is the game denying itself the time to develop young managers properly, providing the breathing space to make mistakes and allow reputations to be formed over years instead of months?
Will what Rodgers saw in McCulloch still be there when he takes his next job? Or will the bruising experience and ticking clock force him to change to suit the ephemeral nature of football?
Some Kilmarnock fans will say McCulloch is simply a bad manager and that may well be the case. Time, if he's ever given any, will tell.