Rachel Brown-Finnis: Women's football 'dragged through mud'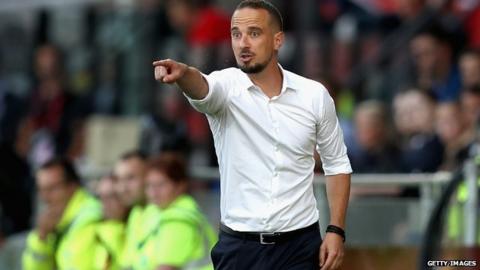 Women's football has been "dragged through the mud" following Mark Sampson's sacking as England manager, says ex-goalkeeper Rachel Brown-Finnis.
Sampson was dismissed on Wednesday after evidence of "inappropriate" behaviour in a previous role.
The 34-year-old, hired by the Football Association in 2013, was investigated in 2014 over safeguarding allegations but was found not to pose a risk.
"Nobody has come out of this well," said Brown-Finnis.
"There has been a real lack of clarity," Brown-Finnis told The Women's Football Show.
The FA board met on Monday to discuss, among other things, the issues surrounding Sampson's dismissal.
In a statement, the board said it was "confident" the right procedures are in place to prevent a similar issue arising now or in the future.
The former England manager was also cleared this year of wrongdoing following discrimination allegations made by England players, including Chelsea striker Eniola Aluko.
"The investigations threw up more questions than answers," added Brown-Finnis, who retired from international football in 2015.
Aluko and FA representatives will meet on 18 October to give evidence to a parliamentary committee.
Former England midfielder Lianne Sanderson, who said she felt unappreciated during her time in the squad, will also appear before the 11-strong panel of MPs.
Analysis
Richard Conway, BBC Radio 5 live sports news correspondent
The FA will now conduct a review into what it calls historic processes - although history in this instance is as recent as 2013, 2014 and 2015, when these events, including an investigation and safeguarding inquiry, around Mark Sampson are known to have taken place.
Chief executive Martin Glenn claims he was not aware of the existence of the safeguarding case until October 2015 and says he did not look into the exact details of it until a couple of weeks ago.
The FA has expressed its confidence in Glenn and chairman Greg Clarke and believes a similar situation will not happen again now or in the future. It would appear as far as the FA board is concerned it is case closed.
However, this matter is far from over. Damian Collins, chairman of the Culture, Media and Sport select committee, wants to see FA officials before him and his panel of MPs next month. It is expected they will come in for sustained scrutiny about who knew what and when.
'I would have celebrated'
Sampson was sacked following England's 6-0 victory over Russia on Tuesday.
After Nikita Parris opened the scoring in that game, the players ran over to celebrate with Sampson on the touchline.
There was some criticism of the celebration, but Parris described it as a statement of how "united" the England team are.
"I didn't think the players meant any disrespect," said Arsenal Women's captain Alex Scott.
The defender, who retired from England duty earlier in September, added: "The Lionesses have been trying to build a team culture. That is what we see in that celebration."
Brown-Finnis said she "would have celebrated" and defended the players who "didn't know he would get sacked afterwards".
"It is a fully emotional investment in Sampson and his staff," said Brown-Finnis.
'The best England team ever'
Brown-Finnis believes England's record goalscorer Kelly Smith, who retired in January, is one of the best candidates to take over from Sampson.
"It has to be somebody who is fully aware of the messages being delivered. This is the best England team we have ever had," she said.
Scott added: "It has to be the best person for the job - this team can win a medal at the next World Cup."