Fifa to lift ban on displaying poppies after talks with UK football associations

By Richard Conway
BBC Radio 5 live sports news correspondent
Last updated on .From the section Football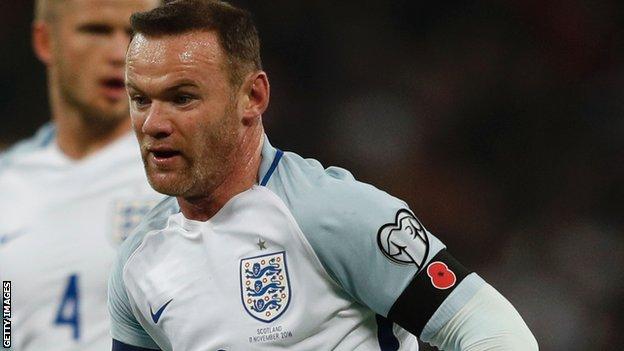 Fifa is set to lift the ban on displaying the poppy after talks with football associations in the UK.
England and Scotland wore the emblem on black armbands during their World Cup qualifier at Wembley last November.
Wales and Northern Ireland were fined for displaying it in their stadiums.
The ensuing row drew criticism from the Prime Minister, with Theresa May calling Fifa's stance "utterly outrageous".
"Our football players want to recognise and respect those who have given their lives for our safety and security," she said. "I think it is absolutely right that they should be able to do so."
Last week Fifa is understood to have sent out a draft proposal to its member nations with revised provisions that could see the poppy permitted if opposing teams and the competition organiser for the relevant match both accept its use in advance.
The new law is expected to be passed in time for November's international games, which are to be played between 6 and 14 November - a period that incorporates Remembrance weekend.
England are set to play Germany in a friendly at Wembley during this time and it is understood the German FA has no objections over the use of the poppy.
England players are now expected to either wear armbands with a poppy on them or have the poppy embroidered on their shirts in the same way as Premier League teams.
The match will be given the go-ahead provided both countries avoid the World Cup play-offs. To do so, England need to beat Slovenia at Wembley next month to secure automatic promotion while a draw is enough for Germany against Northern Ireland at Windsor Park.
The FA declined to comment until the decision to change the game's laws has been fully ratified.
Sports Minister Tracey Crouch said she was pleased that "Fifa is finally going to apply common sense and change its position on poppies".
Last year, England and Scotland displayed the poppy on a black armband in an unsuccessful attempt to circumvent the regulations.
That echoed similar actions in 2011 when, under now-departed leadership, Fifa permitted England, Scotland and Wales to use armbands.
The new wording of Fifa's law tightens the definition of what is deemed a 'political' symbol prohibiting:
the commemoration of any living or dead person

political parties or groups

any local or national government

discriminatory organisations

any group whose aims / actions would offend a notable number of people

any specific political act / event
The International Football Association Board (IFAB), the guardian organisation of the sport's laws, is expected to approve the amendment in early October.
The issue looked likely to be pursued in the courts at one stage after Fifa sanctioned the UK's football associations for using the poppy late last year.
Instead, with the prospect of increased fines being levied for repeat offences, negotiations have taken place to find a solution.
The emphasis will now be on competition organisers, such as Uefa and Fifa, to determine if a particular symbol is 'political' under the new regulation.
It is believed the fines levied against the UK associations last year will not now need to be paid.