BBC Sport - Did Gareth Barry feel the pressure of Phil Neville's shirt?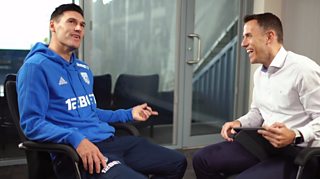 Did Barry feel pressure of Neville's shirt?
As he prepares to break Ryan Giggs' Premier League appearance record, West Brom's Gareth Barry recalls the time he took over Phil Neville's number 18 shirt at Everton.
Watch more from Gareth Barry on Football Focus, Saturday 23 September, 12:00 BST on BBC One, the BBC Sport app & website.