Romelu Lukaku: Striker says it is time to 'move on' from controversial chant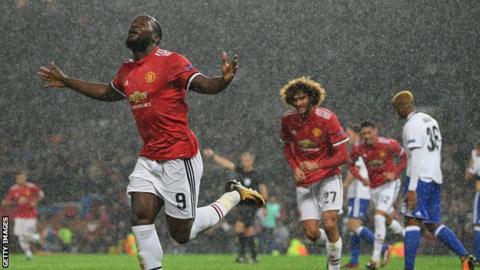 Manchester United striker Romelu Lukaku says he wants the club's fans to "move on" from their controversial chant about him.
Anti-discrimination group Kick It Out have described the lyrics, about the size of the 24-year-old's penis, as "offensive and discriminatory".
"Great backing since I joined #MUFC," Lukaku was quoted as saying on United's official Twitter account.
"Fans have meant well with their songs but let's move on together."
The tweet ends: "#RespectEachOther".
"Racist stereotypes are never acceptable, irrespective of any intention to show support for a player," said Kick It Out earlier this week.
On Friday, United boss Jose Mourinho was asked about the chants and replied: "Don't ask me these questions."
When subsequently asked what his message to the United fans would be, he said: "That's what I want, the fans to support the football club and support the players."
United posted on social media ahead of Wednesday's Carabao Cup win over Burton Albion - in which Belgium forward Lukaku was an unused substitute - that "action will be taken against any offensive behaviour", reminding supporters of the club's commitment to racial harmony.
Midway through the first half a chant was heard at Old Trafford about Lukaku but with fans having appeared to tweak the words.
Lukaku joined United for an initial £75m from Everton during the summer in a deal that could rise to £90m.
He has scored five Premier League goals in five games for his new club as well as finding the net in the 3-0 Champions League group win over Basel.
Lukaku also scored in the European Super Cup against Real Madrid last month.
'Uncomfortable situation'
Analysis: Simon Stone, BBC Sport
All parties will hope Lukaku's intervention will draw the curtain on a rather delicate and uncomfortable situation.
The song in question was heard again at Old Trafford on Wednesday, yet it seemed to be in defiance at being told not to do something rather than fans really believing it is a chant worth persevering with.
Some fans felt it was a major issue, others thought there was nothing wrong and the song was genuinely funny.
United wanted it stopped, yet wondered privately if there were any legal grounds on which to do so, which made their position difficult to say the least.
The brutal truth is, however distasteful, other offensive songs have been sung at Old Trafford in the past - by home and away supporters - without attracting anything like the same level of attention.