Jurgen Klopp: Liverpool's problems aren't that bad
Last updated on .From the section Football
Liverpool manager Jurgen Klopp insists their problems are being exaggerated as he plans to revive a frustrating week.
After a draw with Burnley last weekend Liverpool lost in the Carabao Cup to Leicester - who they face again in the Premier League this weekend.
Liverpool have conceded first in their last four games and struggled to convert their chances.
But Klopp said: "It sounds like we have no points and are completely the worst team in the league."
Their defensive concerns have increased with the injured Dejan Lovren unable to train this week and Joel Matip also struggling.
But Klopp believes the situation is not as bad as is being portrayed.
He said: "Yes we have problems, that is why we 'only' have eight points and not 15. We can make it more serious than it is or we can take it like it is.
"I understand 100 per cent (why) we sit here and talk about the things that have happened.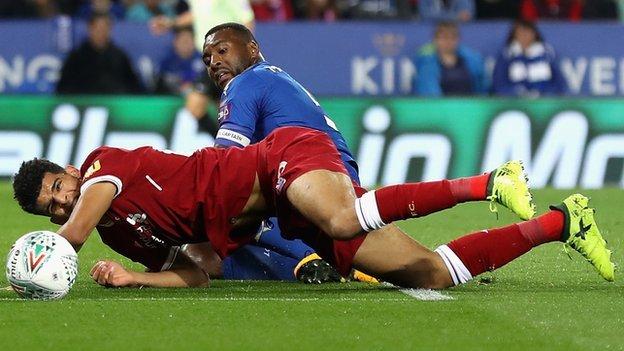 "I know already about all these problems - or 'not problems' - and I've made my decision already how to work with it but if I talk a lot about it I only create headlines - 'Klopp says this. Klopp says that' and it doesn't help us.
"We have work to do but that would be the same if we had 15 points, only it would feel different but it would be the same.
"We conceded the first goal against Sevilla and responded really well, we conceded the first goal against Burnley and responded really well.
"This is the long part of a three-game week from Tuesday to Saturday so we have one more session. We can use it but we have to prove it on Saturday."
After their struggles to get games they have dominated over the line, questions have been asked about whether Klopp has the right sort of characters in his squad.
There are no longer the likes of Steven Gerrard and Jamie Carragher present to rally the players on the field, and while the Reds boss is happy with what he has at his disposal, he still believes it is an area they can work on.
"Yes we have the right characters. Yes sometimes we react really well, sometimes we don't react perfectly," he added.
"That is how it always is and we can improve on each part of our game. Character is nothing fixed.
"Someone says you cannot improve on this, you cannot change your mentality but of course you can. You only have to get used to it.
"If we take the right information from the things we have done so far then it always helps and that is what I try to help the players with.
"As long as we stay in the game, as long as we do what we are good at we are a threat for each team.
"Only in the moment when we change these things then it becomes a problem."