FA Cup: Dave Beasant's son, Hurricane Irma & the Bulls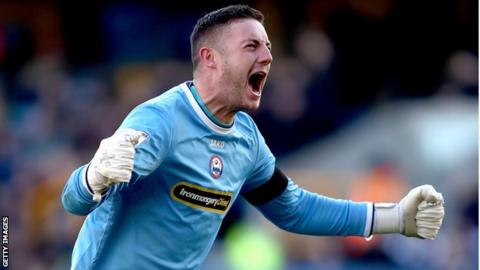 His dad has been there, done it and got the medal.
In fact Sam Beasant has lost count of the number of times his father Dave has sat him down and described in forensic detail how, in front of 98,203 fans, he leapt to his left to deny Liverpool's John Aldridge to become the first goalkeeper to save a penalty in an FA Cup final at Wembley.
And how Wimbledon's Crazy Gang prepared for the 1988 showpiece with a trip to the pub the night before producing one of the competition's biggest shocks.
On Saturday, Sam will go in search of an FA Cup victory of his own when he plays for National League South Chelmsford City against Southern Premier Division Weymouth in the third qualifying round.
"I was too young to be at the final," the 29-year-old told BBC Sport. "I was about five weeks old and was actually born on the eve of Wimbledon's semi-final win over Luton.
"I think we were living in Kingsbury at the time, and I was being looked after by relatives when dad was playing at Wembley.
"About 10 years ago I did get my hands on a DVD of the game and I have watched it from start to finish."
Missed wages & losing out to Butland
While his father played in the top flight and won two England caps, Beasant Jr's career has not run as smoothly.
At the age of 19, he was in Cyprus playing for Olympiakos Nicosia.
He says he was not paid on time, adding: "It was my first professional team and I was the only English player at the club. I came home low in confidence."
After a spell at the Glenn Hoddle Academy, where his dad was a coach, he had a trial at Birmingham City.
But there he faced stiff competition - in the form of a future England international.
"In the end they had to make a choice between me and Jack Butland," he says. "I think they made the right decision."
Beasant has since played in the Football League for Stevenage, where his dad was goalkeeper coach, and Cambridge United, but his career has largely been spent on the non-league circuit.
"Working with my dad really improved me," he says. "He never pressurised me and has always been there for advice. We talk on match days on the way to games and every other day."
'We don't talk about the salad cream incident'
Dave Beasant famously missed the start of Chelsea's 1993-94 season after dropping a full jar of salad cream on his foot, severing a tendon in his big toe.
"I remember the day really well," said Beasant Jr. "My grandad picked me and my brother up from school because dad had to go to hospital.
"He was reaching for something at the back of the cupboard and that's when it happened. He was out for two months, it was the longest injury of his career.
"We don't talk about it too much."
Non-League Super Cup
FA Vase holders South Shields will be looking to cause an upset when they host FA Trophy holders York City. South Shields, who play in the eighth-tier Northern Premier League Premier Division, are managed by former Aston Villa, Leicester City and Blackburn Rovers midfielder Graham Fenton.
From Bath City to Hurricane Irma
Of the 880 players starting an FA Cup tie this weekend, few will have felt the emotions Nathaniel Jarvis has in the past few weeks.
The forward scored a hat-trick against Knaphill in the last round to help secure sixth-tier Bath City a home tie with National League South rivals Hemel Hempstead Town.
Jarvis, 25, plays his international football more than 4,000 miles away for Antigua and Barbuda - an area devastated by Hurricane Irma.
A state of emergency was declared in Barbuda and all 1,600-plus residents were evacuated to nearby Antigua after the category five storm ripped apart the island.
"I was concerned because I have family over there," Jarvis, who started his career at Cardiff City, told BBC Sport. "I've got two great-aunts and cousins in Antigua.
"There was flooding, high winds and damage but nothing like Barbuda, which was hit by the eye of the storm. Barbuda's a beautiful island. It's really sad what has happened."
Jarvis was born in Cardiff but qualifies to play for Antigua and Barbuda through his grandfather. He has played eight times for the Benna Boys, scoring in his first two games.
Jarvis scored against Oxford United at the start of Cardiff's run to the League Cup final in 2012, when they lost on penalties to Liverpool at Wembley.
However, he was unable to secure a regular place and was released after Cardiff's promotion to the Premier League in the summer of 2013. He is in his second spell at Bath.
Underdogs
Six years ago, AFC Mansfield did not exist. Now they are two wins away from the FA Cup first round.
The Bulls are one of seven ninth-tier teams, who entered at the extra preliminary round stage at the beginning of August, still standing.
Their four wins to date have netted them £10,925, with a further £7,500 in prize money to follow if the Northern Counties East Premier Division club upset Boston United from three leagues above.
Rudy Funk, a former under-21 national handball champion in Romania, is the mastermind behind AFC Mansfield's run to the third qualifying round for the second successive season.
The former Scarborough Athletic boss has seven promotions in about 20 years of non-league management.
"For us to be playing Boston United, a former Football League club, just five years after being formed is unbelievable," said Andrew Saunders, who co-founded AFC Mansfield after ending a spell as a director at Mansfield Town. "It's the biggest match in our short history."
Funk's team includes 32-year-old midfielder Jon D'Laryea, whose one and only senior appearance for Manchester City was against an Arsenal side featuring Cesc Fabregas and Robin van Persie in a League Cup third-round tie in 2004.
FA Cup third qualifying round in numbers
80 - number of clubs taking part at this stage from the ninth to the sixth-tier.
9 - rounds left before the final at Wembley on 19 May, 2018.
£7,500 - amount of money winning teams receive at this stage.
7 - number of teams from the ninth-tier still left in the FA Cup.
BBC to show Ashton Athletic v Chorley
The BBC will broadcast the FA Cup third qualifying round tie between Ashton Athletic and Chorley on Saturday (12:30 BST).
Ashton Athletic play in the ninth-tier North West Counties League Premier Division, and will be hoping to cause a cup upset.
National League North Chorley, managed by former Crystal Palace and Blackburn Rovers forward Matt Jansen, are three levels higher.
A game from every stage of the 2017-18 tournament will be streamed live across BBC Sport's digital platforms.
This will allow audiences to watch the game live on their PC, mobile, tablet or connected TV. Matches will also be available live and on demand on BBC iPlayer.
Teams in the National League enter in the fourth qualifying round with winners of those ties moving into the first round proper, when sides from League One and League Two join the competition.