Burnley v Leeds United: Ladbrokes say sorry for Chris Wood & Charlie Taylor tweet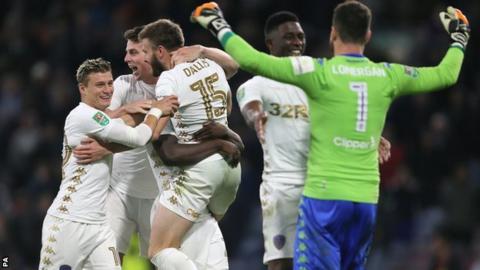 Ladbrokes have apologised to Burnley for tweeting an emoji of a middle-finger gesture aimed at two players after Tuesday's EFL Cup loss to Leeds.
The betting company, which has a sponsorship deal with Burnley, aimed the post at ex-Leeds pair Chris Wood and Charlie Taylor.
Leeds beat the Premier League side after a penalty shootout at Turf Moor.
"We would like to sincerely apologise to any fans of the club that took offence," a Ladbrokes statement said.
"We have apologised to Burnley FC."
Wood, 25, and Taylor, 24, moved from Championship side Leeds to Burnley in the summer, with the New Zealand forward scoring an 89th-minute penalty in Tuesday's third-round tie, which ended 2-2 before the shootout.
Burnley had put out a statement on Wednesday saying they were aware of the tweet and had contacted Ladbrokes for comment.
Ladbrokes, who are the club's UK betting partner and sponsor a stand at Turf Moor, told BBC Sport: "They were very poorly conceived tweets which we have since deleted. It was only intended to be a bit of fun but failed in that regard."