No flags at NI v Republic women's World Cup qualifier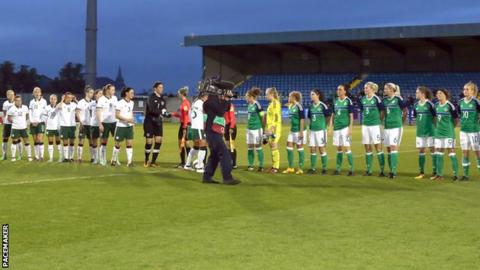 A threat prompted the decision not to fly national flags or play anthems at Northern Ireland women's World Cup qualifier with the Republic of Ireland on Tuesday.
Uefa made the decision before the game at Mourneview Park in Lurgan after safety concerns were raised.
The Football Association of Ireland said the decision was made after information received by police and the match venue around safety concerns.
The nature of the threat is unclear.
It had been planned to allow both flags and play both anthems at Tuesday night's game, which the Republic of Ireland went on to win 2-0.
Both anthems were played when Northern Ireland and the Republic last met in a men's international in Dublin in 2011.
But in the early 1990s, only the anthem of the home country was played.
Northern Ireland's Irish Football Association (IFA) said that after safety concerns were raised "it was agreed with the Uefa match delegate that neither national anthem be played or flag be flown before the game".
"The Irish FA believes that the flag of both competing teams should be flown at a match venue and that their anthems should be played before a game," said an IFA statement.
"While understanding the safety concerns behind the Uefa match delegate's decision, the association is disappointed that it was not possible for the normal pre-match protocols to be observed last night."
Newry City captain Grace Murray, who has represented the Republic of Ireland at international level, told Q Radio the decision not to fly the flags or play anthems had "no place" in football.
She said it "should have been a proud moment" for Northern Ireland and the Republic of Ireland.
"I think it is disgusting it has come to this and has cast a negative shadow over the whole experience."
The Republic's victory came thanks to an own goal from Rachel Furness and a strike from Megan Campbell.
It was the second defeat for Northern Ireland in five days, following Friday's loss to Norway in their opening qualifier for the 2019 World Cup.