Ravel Morrison: Former Man Utd midfielder joins Mexican side Atlas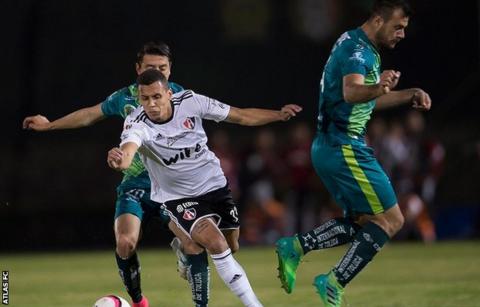 It will make a good quiz question one day: Which Englishman has played alongside Michael Owen, Jack Butland, Joey Barton, Felipe Anderson and Rafael Marquez?
Answer: Ravel Morrison.
As England prepare for this week's remaining World Cup qualifiers against Slovenia and Lithuania, Morrison could not - almost literally - be further away from the squad.
Once regarded as the nation's most prodigious talent and described by his former Manchester United manager Sir Alex Ferguson as having "as much natural talent as any youngster we ever signed", the Mancunian's latest move has taken him to Mexican Premier League side Atlas on a season-long loan.
BBC Sport has been given an insight into how Morrison ended up in North America and what he can expect there.
'The club made him feel important'
There is a 30-second YouTube clip of Morrison scoring a sensational goal in training for the England Under-21s, which has had 3.5m views since 2013, and another titled "Goals, skills, assists - amazing talent" which compiles his best moments.
Right-foot finishes, left foot, free-kicks, pace, composure, stepovers, drag-backs - the video showcases the vast array of his talents. It is easy to see why former United defender Rio Ferdinand called him "the best young kid I have ever seen in my life".
Morrison started his career at Old Trafford, where he made just three League Cup appearances, and has since gone on to play at West Ham, Birmingham, Cardiff, QPR (twice) and Serie A side Lazio. All by the age of 24.
For every superb solo goal, however, there were misdemeanours involving common assault, criminal damage and witness intimidation. Last month, his ex-Hammers boss Sam Allardyce said Morrison was "the biggest waste of talent I ever worked with".
Even Ferguson - the master at mentoring and developing young players - could not tame him.
Now in his latest sojourn, which you may have missed on transfer deadline day, Morrison has made the move to Liga MX club Atlas - 5,500 miles away from his home city of Manchester as he looks to get his career back on track... again.
So how did the transfer come about?
"Atlas wanted a statement signing," Morrison's agent Dan Wilson told BBC Sport. "They got in contact and showed their serious intent from the start to do everything to complete the loan deal.
"We did some research on the league and saw some big-name players playing there from big European clubs. Andre-Pierre Gignac from Marseille, Keisuke Honda from AC Milan, West Ham's Enner Valencia and Juan Iturbe of Roma to name a few.
"It was a very difficult decision as he had options in Europe. It is a difficult decision to move to a new country, let alone a new continent.
"But the club made him feel very important, went beyond their means and the most important factor is that the coach counts on him."
That coach, Jose Guadalupe Cruz, admitted he knew about Morrison's past and it was "risky" but that people should be given "the benefit of the doubt".
Morrison, who spent three days in Mexico to have a look around the club and the area prior to the move, seems to be ready to turn a new page and said at his unveiling: "The past is the past. It is different when we get on the field. I will just let football do the talking. The other negative side is in the past."
Adapting to life on a new continent
The biggest difference Morrison will need to adapt to is the weather. While the north west of England sees continued rainfall throughout the year, the average October temperature for Guadalajara is a scorching 27C.
Teams often travel to matches by plane, unless their opponents are an hour's drive away, in which case they will take the team bus.
It will help if Morrison learns to speak Spanish but he will be looked after by a friend and a sports agency representative, who have also made the move with him.
He joins a club that has an average crowd of 34,000 for home games - a figure better than 10 current Premier League sides - but has not won the Liga MX title since 1951 and the Copa MX - the domestic cup - since 1968.
"There has been a trend in Mexico in the last couple of years where you see random arrivals from Europe," says Nayib Moran, ESPN's Mexico football reporter. "It is mad an English player coming to play here.
"Atlas is not known to make these types of notorious signings and it gave them a lot of attention. There is lots of curiosity because he was one of the best players in the Manchester United academy."
Cheshire-born Antonio Pedroza is the only other Englishman to have played in the league: for Chiapas, Morelia, Cruz Azul and Toluca. He moved to Mexico at the age of two with his Mexican father and English mother.
Pedroza also had a spell in the Championship with Crystal Palace, making five appearances in the 2011-12 season.
So is Morrison's move to Mexico's party city a long-term one or a stepping stone to bigger and better things?
"I am surprised he moved here," Pedroza told BBC Sport. "He has had a few problems but that is football - sometimes you need to make this kind of move to be happy to play and get back to a top league in Europe.
"Training may be difficult for him as the sun comes out really early so at 10am it can be boiling. Some teams train in the morning but all the boys get used to it.
"If he is under a good contract he can easily pay for a big house with a swimming pool. Guadalajara is really safe but like everywhere, there are areas which are bad. He is going to be in one of the best cities in Mexico."
Sorry, this content is no longer available.
Will Morrison be a success?
The Liga MX consists of 18 teams, who play each other once in two championships - apertura (opening) and clausura (closing). The top eight sides progress to liguilla - the play-offs. This sees a two-legged knockout system, with the winners being crowned champions.
Atlas are 11th in the league after 10 matches in the 2017-18 apertura, two points adrift of Cruz Azul in eighth place.
Morrison has played three times so far, coming on as a substitute in all those matches, ending in two victories and one defeat.
And, according to Pedroza, he will have to get used to some on-field differences to English football too.
"When I was at Palace, a player tackled me and fouled me," he said. "I went running to the referee telling him to show the player a yellow card, doing the Latino gestures with my hand.
"But then the captain Paddy McCarthy came running up to me and started shouting, 'Don't do that here in England, you are not allowed to do that'.
"I did not understand why he was saying that, so I told him to relax, I just wanted a player to get a yellow card, which is normal to do in Mexico. It was only after the game I found out you can't do that in England - if you do that you can get fined by the FA.
"Morrison will need to get used to things like that, but he will easily be the star player for the team.
"He needs to be really fit because the league is very technical - less physical than the Premier League - but the players can run and run and run for the whole game. He should be OK because he is technical and cleverer than any other player on the pitch."
Moran says Morrison's late arrival at the club midway through the season "complicates" things for the club, who have had to deal with the loss of ex-Barcelona defender Rafael Marquez. The former Mexico captain has been linked with a drugs cartel, an accusation he denies.
"Teams are not stacked with talent. If you are really good you can shine but you have to take the initiative and I think that is what Morrison should aim to do," he says.
"They were hard hit by the Marquez situation. It prevents him from playing and he is the leader of the team. At the moment, they don't have a leader who controls the players in the squad. It is not a club that will be going to compete for titles.
"I find it difficult to understand why he joined halfway through the season. We might not see his best until next season, if he decides to stay longer."
After Morrison's star showing for West Ham in their 3-0 win at Tottenham in 2013, a BBC Sport article stated: "Other than Morrison himself, there are no barriers to his progress - and the signs are that he is beginning to mature."
Four years on, will those signs finally come to fruition?