Gareth Bale: Wales and Real Madrid star needed painkillers to play last season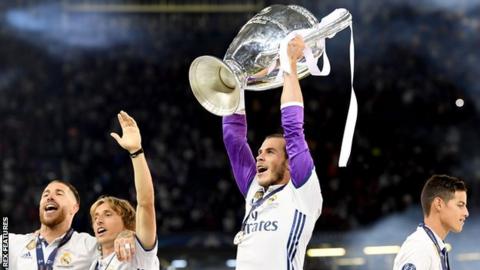 Gareth Bale says he needed to take painkillers to play last season.
The Wales and Real Madrid forward had ankle surgery in November 2016 that sidelined him for three months.
The 28-year-old then suffered a calf tear 10 games into his comeback during a match against Barcelona in April that kept him out for another six weeks.
"I had to take a lot of painkillers to be able to play... I think I should have taken more time to recover," Bale told Spanish newspaper El Pais.
"I could have played much better when I returned and be able to do all those things with the ankle which I wasn't able to."
Bale has helped Real win 10 trophies since joining the Spanish giants in 2013 for a then world-record £85m fee, including three Champions League titles.
But he has often been criticised in Spain over some of his performances and fitness.
Bale managed to return to play in the Champions League final in his home city of Cardiff, where he appeared for the final 13 minutes of Real's 4-1 win over Juventus.
After the game the former Tottenham player admitted he needed to rest his ankle during the summer to "get it properly recovered".
"On one hand it's easy now to say that I should have rested more," added Bale, who has been linked regularly with a move back to the Premier League with Manchester United.
"But when you've been injured for three months and you see your team-mates playing, you really want to return and that's what I did.
"An injury is something that's very frustrating when you're a professional sportsman.
"Of course it's been difficult not being able to play, but I've had a good pre-season and I'm training hard to be able to help the team win more titles."
Bale has played in five of Real's six competitive games so far this season, scoring one goal, and in both of Wales' wins over Austria and Moldova in September that put them back into World Cup qualifying contention.