Fernando Llorente: Swansea City offered striker new deal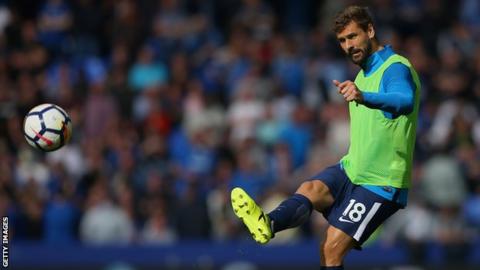 Swansea chairman Huw Jenkins says he tried to keep striker Fernando Llorente by offering him an improved contract.
The World Cup winner left the Swans after one season to join Tottenham.
"With Llorente we talked to him for weeks, there was a lot of talks about upgrading his contract and giving him a new two-year deal," Jenkins explained.
Jenkins also said the club felt they had to delay the sale of Gylfi Sigurdsson to Everton to drive up the price of the midfielder.
Swansea supporters have been critical of the club for the amount of time it took to complete the Sigurdsson sale, but Jenkins believes there was no alternative.
"With Gylfi, it is a simple fact, whether we want to believe it or not, that we can't really go into the market and sign players until we have the deal agreed and the player going out the other way.
"And ideally, he needs to be going out before we can bring in, to make sure we don't take those financial risks.
"There are clubs that do that and good luck to them, but we can't be doing that. We have to be cautious and it took quite a while to get up to that headline figure.
"Even then, it was slightly below what we wanted for Gylfi, but we were at a point where we had to make a decision and we did do.
"Yes there is a view that we could have done it earlier, but it would certainly have been for less money and our business, done earlier, may not have been the same as it is today.
"We tried our best to keep the two players, but we had to maximise the transfer fees coming in."
'The best position we've been in'
Jenkins believes Swansea are in a strong position after a summer where they signed midfielders Roque Mesa,Renato Sanches and Sam Clucas and strikers Tammy Abraham and Wilfried Bony.
"It is nice the transfer window is out of the way and we have done the business that we have," he said.
"Considering we lost two big players for us, two strong players who scored the most goals, got the most assists; that is a big thing to lose and change.
"We have tried to do that, to change and perhaps you will see a little bit of a difference in how we play and with the business done, I think there is a lot of optimism.
"If we still had Sigurdsson and Llorente we wouldn't have been able to put the same numbers in the squad and we didn't know they were going, there was a lot of negotiating behind the scenes.
"All I know is at the moment, we are probably in the best financial position we have been in since we've been in the Premier League.
"Things are looking in the best position we've been in since joining the Premier League on and off the field."