Motherwell players and coaches join fan-ownership group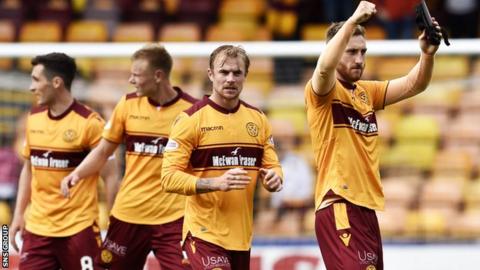 All first-team players and management staff at Motherwell have joined the Well Society, the supporters' group that runs the club.
The fans' body took over the majority shareholding at Fir Park last October.
Players and coaches have all signed up to help fund the Well Society with monthly contributions.
"I'm proud the players have taken this step as it shows what we're trying to build here has solid foundations," said manager Stephen Robinson.
"We have guys who are genuinely committed to each other as team-mates, but also to the club that does a lot for them too."
Club captain Carl McHugh added: "We are building a very strong bond as a squad, something the manager has worked hard to encourage.
"This is our place of work, but the players have a genuine affinity with this football club, it gets under your skin really quickly.
"Even the new lads who have just joined say there is a special feeling about Motherwell and that's why we have, as a squad, collectively agreed to join the 'Well Society and contribute each month.
"We want the link between the fans of the club and the players on the park to be strong. That comes from us giving 100% each and every week, but also with things like this, where we put something back because we care about this place. We are all honoured to be members."
The majority of the Well Society's income is generated from monthly contributions from members, with more than 1,000 fans signed up.