Aberdeen's Stevie May: hat-tricks, horror injury, scooting round B&Q & lure of Dons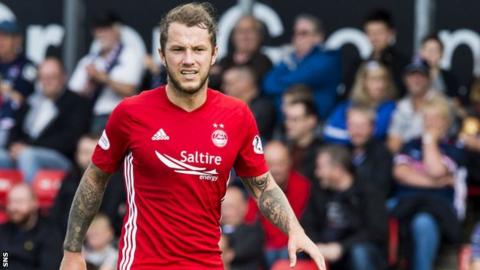 The last time Stevie May played against Hearts he was 16 goals into his 27 goal Cup-winning season with St Johnstone. It was mid-January 2014 - and he got a hat-trick.
Whatever happens on Saturday when his new club, Aberdeen, play Hearts at Murrayfield, it'll have to go some to rival what went down in a match that is still vivid in May's mind's eye. A first goal, from the penalty spot, after 39 minutes, a second after 49, a third, from the penalty spot again, just after the hour. A 3-1 lead despite playing with 10-men for much of it.
"I was thinking about it the other week," says May, who has two goals in his three games since joining the Dons.
"Hearts got it back to 3-2 with about a minute left, then they got another red, then we got one. Alan Mannus, our goalie, got sent-off. We put Tom Scobbie in goal and then ended up conceding the equaliser from a set-piece. It was chaotic.
"I don't know why I didn't go in goal. I wish I had. I might have had the mentality that I was going to get a fourth at the other end, but if I could go back and change anything about that game I'd go in goal and save that equaliser. A hat-trick and a match-winning save. That would have been a nice one."
Under Tommy Wright's management, May was a revelation in his hometown club. Not many players get to stamp their name into the history of a place at the age of 21, but that's what the striker did in that storied season. At the end of the month, Aberdeen will host St Johnstone at Pittodrie, a game that May says will be "strange" as well as being one that he has long since "marked on my calendar. It'll be the first time in my life that I'll want Saints to lose".
'The physio told me my career could be over'
May has had quite a time of it since leaving Scotland. On the highest of highs he joined Sheffield Wednesday, scored three goals in his first eight games and looked like he was picking up where he left off in Perth.
It was a challenge at Wednesday. They were a side that were set up to defend. Flowing football was not their bag. They broke their own record for the amount of clean sheets in a season, but goals were fairly precious commodities. May got seven in the Championship. The leading scorers at the club were on eight, but both of those players, Atdhe Nuhiu and Chris Maguire, had penalties in their total. From play, May scored more than either of them.
"I don't think I was that far off, but from there we had a takeover of the club and they brought in a lot of players," says May. "It was crazy the amount of players that were coming in. There was a chance of going to Aberdeen on loan but the owners weren't having it. I went to Preston and I got the injury early on. I didn't get the chance to show anything."
When Aberdeen signed May it was rightly assessed as a bit of a coup. What was even more remarkable, though, was that May was in any fit state to play anywhere, not to mind Pittodrie. The injury he sustained eight games into his time at Deepdale was akin, he was told, to something that might happen in a really attritional rugby match - or a car crash.
This was a seismic moment in his career, an incident he might never have come back from. It was late-November, 2015 and Preston were playing at Fulham. May came on a substitute in the 89th minute. A minute and a half later he was hit with a tackle that ruptured his anterior cruciate ligament, his medial collateral ligament and his posterior cruciate ligament.
He never even knew he had a PCL at the time. Now? He's a world authority.
"It was an impact injury," says May. "I'd say it was a strong tackle but I'd also say it was a bad tackle, if I was being brutally honest. He won the ball, but he came right over the top of me and my knee just hyper-extended. As far as injuries go it was probably as bad as you'll see.
"The physio told me that my career could be over. That really shook me. The hardest bit was having to rely on other people, not being able to make yourself a drink, just the basic things you take for granted.
"I'd just bought a new house and one day myself and my girlfriend, Ceianne, had to go to B&Q. It was a massive place. I went in on my crutches and I saw the scooters at the front. I thought, 'I'll have a shot of this.' I got in the scooter and gave the crutches a rest.
"It's hard when you're using the crutches. You're getting blisters on the hands and all that. Those months were really difficult. I couldn't get in and out of the bath. I had to rely on my missus for everything. I'd have been lost without her."
May's rehab lasted 10 months and it was 14 months before he played for Preston again, as a substitute, and 17 months before he started a game. That was against Rotherham in April this year. Just before half-time, with Preston trailing 1-0, May launched one from 25 yards that flew into the top corner. He was back.
'The quality on our bench is scary'
Preston wanted to keep him, but couldn't guarantee him the game-time he needed to make up for all the football he'd lost.
May explains: "Alex Neil was the manager. I'd played with Alex when I was on loan at Hamilton. I'd been captained by him and now I was being managed by him. He said, 'Look, if you still want that move to Aberdeen, I won't stand in your way.'
"It was a no-brainer. A very easy decision to make.
"I knew what Aberdeen were about. Great support, home and away. That was a big pull. I'd been linked with them before so I'd been keeping an eye on the ins and outs and it was exciting the players they were bringing in.
"Derek (McInnes) gave me my debut in football (as St Johnstone manager in 2009), so I have a lot to thank him for. I worked with him when I was 14. I know him well, I know (assistant manager) Tony Docherty well, I know (goalkeeping coach) Gordon Marshall well, I know a lot of the players. The transition has been easy.
"I'm just looking forward to playing, scoring and enjoying my football. We haven't been playing anywhere near as well as we can play and we're still getting the wins. It's really promising. All you have to do is look at our bench on a Saturday, the quality that's there is scary in terms of this league. We have players (on the bench) who would walk into 90% of the teams in the league."
May has one Scotland cap to his name, in the friendly against England at Celtic Park in the autumn of 2014. He says he hasn't thought about winning a second. All that's been on his mind this past while is playing and scoring in a settled environment with an ambitious team. He has that now.
"If I get the goals then I'll see where it takes me, but I'm not going to kick myself if it (an international call-up) doesn't happen," he says.
After the brilliance of his Cup-winning season in Perth, the turbulence of his time in Sheffield and the anguish he experienced in Preston, May is up and running again. At 24, you have to imagine that his best years are right in front of him.