World Cup 2018: Scotland can qualify for finals, says Craig Brown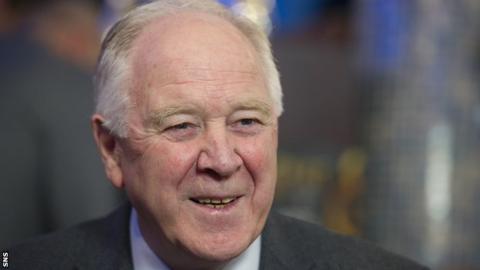 Former Scotland manager Craig Brown remains "very optimistic" that the national side will secure a place at the 2018 World Cup finals.
The Scots, in fourth place in Group F with two games remaining, are chasing second spot and a play-off place.
"[The draw with England] was the turning point and gave belief to the team and to the nation," Brown said.
"I got a text from Gary McAllister saying 'the Jocks are back!' So, the Jocks are back."
Victories against Lithuania and Malta in the recent double-header offer Gordon Strachan's side hope of securing a place in the finals in Russia.
The Scots are level on points with Slovenia, who have a superior goal difference, and are a point off second-placed Slovakia.
Slovakia visit Hampden next month before Scotland finish their campaign away to Slovenia, who will have played England at Wembley by then.
'We've got enough firepower'
Brown, Scotland boss from 1993-2001, guided the national side to their last major finals - the 1998 World Cup in France - and believes qualification is "well within our capability".
"The way the team is playing indicates that we'll be very difficult to beat," he added. "We've got to win the games, that's the important thing and I think we've got enough firepower if Leigh Griffiths is fit and we're getting goals from midfield.
"If I were an opposing team, and we got to the play-off, then I wouldn't relish coming to Hampden as part of a play-off to get to a World Cup. Scotland at home, I'm hoping are unbeatable in the immediate future."
Brown believes June's 2-2 draw with England at Hampden - a game where Griffiths struck two stunning free-kicks - was the turning point to revive Scotland's campaign.
"That was the turning point and gave belief to the team and to the nation. And the Tartan Army is alive again," he added.
"And we didn't deserve to lose at Wembley the way we lost. There's no doubt about that and if you're a football man, you look at that game and say, 'for England to win 3-0 was totally unfair'. When we'd pushed them so hard, we'd deserved to win the game at Hampden against England.
"I'm very optimistic - when I see what I've seen in the past couple of games, Scotland are doing exceptionally well."
Strachan faced questions over players he had omitted from his squads for the World Cup qualifiers and Brown sympathises with his successor.
"I hated it when I was manager of the national team and managers or supporters of a team were telling me their players should be picked," said Aberdeen director Brown.
"I didn't mind if they said players from another team should be picked but there's a huge amount of bias here. Naturally, I would love to see certain Aberdeen players in the Scotland team but I'd never presume to tell the Scotland manager who to pick.
"I'm a Gordon Strachan fan and make no bones about it. I think he's the man for the job and even when they were struggling a little - and there's no doubt we were - I think he was struggling because of the resources he had, not because of his management, because his management is very good. He didn't have the quality of players I had.
"We were fortunate - we had four attempts at qualification and got out of the group on three of them. When I didn't get out of the group in the last one that was it for me and I resigned."