Dundee: Neil McCann will take his side to Ibrox with 'no fear'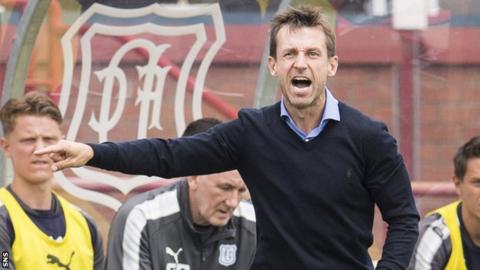 Dundee manager Neil McCann says his team will go to Ibrox on Saturday with no "fear" and a determination to claim all three points.
McCann says that, after the transfer window, he has the players at his disposal with the ability to go to Glasgow and defeat Rangers.
"We have experience, we have youth, we have got numbers," McCann said.
"We have ideas on how we want to play, we will respect Rangers and that huge crowd but we're coming to have a go."
McCann believes Dundee "recruited well" during the summer transfer window, signing 11 players as he tries to avoid a repeat of last season's relegation battle.
As a former Rangers player, McCann believes he can use his experience to help his players deliver a game plan that can trouble the home side.
'Not going to park the bus'
"I was sitting with Graham [Gartland, assistant manager] the other day just drawing the team up and we've virtually got competition for most positions," McCann said.
"We'll go to Ibrox with a really strong squad, and I'm not going to park the bus.
"At times we'll be compact, we'll need to defend in numbers when we need to, but we're coming to have a go.
"The Rangers side is not the same as the one I played in, that goes without saying, but they're a good side.
"I like the way that Pedro Caixinha has dealt with a lot of things. He's a passionate guy, that rubs off on the team, he's a forward thinking coach, aggressive in the way that Rangers play, they're quite open, and with that leaves gaps.
"That's what I'm looking at, and I'm going to go there as a manager prepared to play attractive football and take risks when we have the ball."
McCann was a Rangers player the last time Dundee left Ibrox with a victory, in 2001. Although he didn't play in the game, Rangers had Lorenzo Amoruso, Stefan Klos and record signing Tore Andre-Flo in their starting 11.
'You have to learn what it means to wear the jersey'
McCann says the present squad at Ibrox, under Caixinha's guidance, is one that can push for top honours.
"They are a good side and I like the way Pedro has dealt with a lot of things," McCann said.
"You have to learn what it means to wear the jersey. That's a saying that you don't actually know what it means until you're in it.
"It's the weight of expectation, it's when you think that a draw at another club might be alright, it's not alright at Rangers. Having an indifferent game is not alright at Rangers.
"I was fully aware. I became a Rangers fan the moment I signed and I understood it. There were European, world class stars, but I was comfortable in my own ability, so I knew what was expected of me.
"You have to buy into it and be brave, and that's something I want from my team, to be brave and go to Ibrox without any fear.
"I've been in the dressing room at Rangers, I've experienced, so I'll be giving the same advice to my players.
"Clearly going back to Rangers, where I spent many successful years is something I'm looking forward to, but I'm not going back there to shake any hands.
"When it's game time, I've got nobody there I want to please other than my players and the Dundee fans. I'm going there full focused to set us up to win the game. Afterwards, I can see a few old friends."