Dele Alli: Midfielder 'unlucky to be caught on camera' says Mauricio Pochettino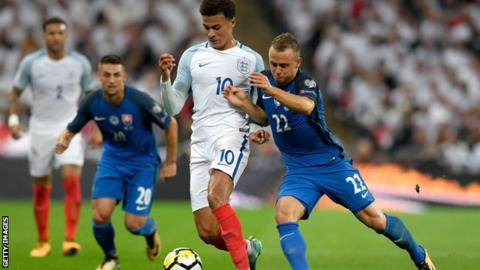 Tottenham midfielder Dele Alli was "unlucky" to be caught on camera gesturing with his middle finger during England's match against Slovakia, says Spurs manager Mauricio Pochettino.
Television pictures showed Alli's gesture during Monday's 2-1 World Cup qualifying victory at Wembley.
The 21-year-old said it was "a joke" with "good friend" Kyle Walker.
Pochettino also described the gesture as a "joke" and said Alli's "behaviour is fantastic".
Alli and full-back Walker were team-mates at Spurs until the latter joined Manchester City this summer.
Football's governing body Fifa told BBC Sport on Thursday they were still "gathering evidence".
The incident occurred in the 77th minute after Alli was body-checked by Martin Skrtel, and referee Clement Turpin waved play on.
It initially appeared that Alli gestured towards Turpin, with whom he also had words when he was substituted in the 93rd minute.