Derek McInnes: Scottish football drinking culture now not so strong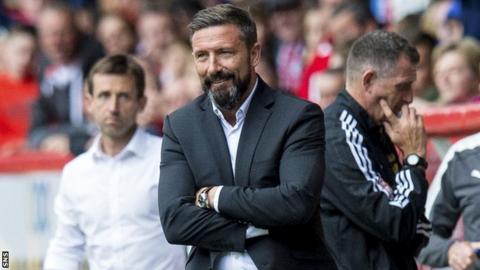 Derek McInnes believes the drinking culture in Scottish football is not as strong now as it was during his playing days across two decades from 1988.
Dons winger Gary Mackay-Steven had to be rescued from a river after a night out, but McInnes believes modern-day players are generally more restrained.
"I think it changed at the back end of my career," said the Aberdeen manager.
"When I first started playing there was a drinking culture, it was part and parcel of it."
McInnes retired from playing in 2008 having had spells at Morton, Rangers, West Bromwich Albion, Dundee United and St Johnstone, among others.
Speaking at his team's media conference on Thursday, he was keen to draw a line under the Mackay-Steven incident but reiterated the need or players to show "more control, more restraint".
"It used to be you'd be the odd one out if you didn't have a drink," he said.
"Judging from my dressing room, we've got loads of players who don't touch it and who are very aware of the need to be at top fitness levels.
"You can't play at the levels that we demand if you are constantly abusing yourself through alcohol.
"There is a time and a place. We are not asking the players to live like monks. They are human beings like everybody else.
"They have a duty to enjoy themselves, but we want to make sure it's more in keeping with their job.
"It (the drinking culture) has changed. There's far better professionalism in the game of football in the last 10-15 years than there was maybe previously.
"The most important part is having that discipline, always being aware in the modern day and age, being at your best athletically, but also being aware of everything round about you when you're out.
"(Mackay-Steven) has apologised. For me, it's done. It's a mistake and it's not going to stop him being an important player for me."
Former Aberdeen and Scotland manager Craig Brown felt McInnes's comments earlier in the week were "spot on". In essence, McInnes had argued that players could have the occasional drink but only at the right time and place.
Brown told BBC Scotland: "I would concur exactly with what Derek McInnes said.
"I used to say to teams, 'you're off, but remember - you all think three lagers make you invisible; three lagers does not'.
"My job for 16 years was taking teams abroad and looking after them. Ally McCoist and Ian Durrant, you'd need a lasso, not a butterfly net, to look after them. You would need a collie dog to round them up sometimes."
Looking ahead to Saturday's Premiership match against Hearts at Murrayfield, the Jambos' temporary home while their stadium renovation is completed, McInnes admitted it would be "unusual" to play at Scotland's home of rugby.
However, he is disappointed that his players could not train on the hybrid pitch ahead of the match, which is expected to draw 8,000 travelling Dons fans.
"We asked if we could train but we were told we couldn't," he said.
"I do think there was a case for being allowed to train, because it is a rugby stadium, but I'm not going to go to war about it.
"I just thought it might have been worthwhile.
"But we will prepare as normal. We will familiarise ourselves with the surroundings.
"I, like the players, enjoy going to Tynecastle. Murrayfield will be half full at best so it won't have that real electric atmosphere that Tynecastle gives you. It won't make it any easier or more difficult."