Greg Docherty keen to represent Scotland but won't rule out Ireland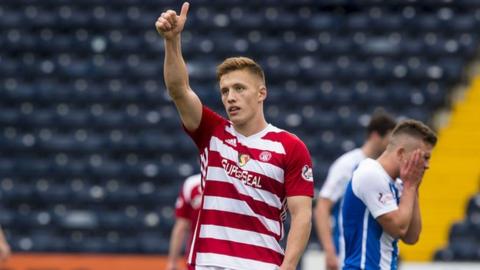 Hamilton's Greg Docherty says his preference is to represent Scotland but he would consider an official approach to switch to Republic of Ireland.
The midfielder, 20, has been capped twice by Scotland Under-21s but was left out of the most recent squad.
Docherty qualifies for Ireland through his grandparents, but is not currently thinking about changing allegiance.
"I'd like to represent [Scotland] again. If it came to it, though, you never know," Docherty said.
"I knew I was eligible to play for Ireland, but I've not heard anything. If someone else is sniffing, that's flattering.
"It's something I'd need to think about, take time. I wouldn't jump in. I'd need to speak to my family and think what's right for me.
"It would be something different, but I'm going to keep focusing on trying to do well for Hamilton.
"I spent my summers there when I was a child and I've plenty family over there still. That half would be happy. I don't know, there's been no official approach to me, so I'm not thinking about it at this moment in time."
'A very personal decision'
Speaking on BBC Radio Scotland's Sportsound, Scotland Under-21 coach Scot Gemmill said: "That's a very personal decision for Greg to make.
"We're very lucky that we've worked with Greg. He played for us at the end of last season in a couple of really big games. We're obviously watching him all the time for his club but he's in the same situation as a lot of players - [Dundee United's] Paul McMullan wasn't in the squad, [Celtic's] Liam Henderson wasn't in the squad.
"It's hard not to relate it to your personal circumstances. If you grow up dreaming about playing for Scotland then I don't see why you would change that."
Docherty was disappointed not to be selected for the under-21s squad to face the Netherlands at St Mirren's Paisley 2021 Stadium, which Scotland won 2-0.
Hamilton manager Martin Canning spoke to Gemmill about the player's exclusion, and Docherty is grateful for the support.
"It's a nice confidence boost and can only help me develop even more," Docherty said.
"I was involved this time last year, so it would have been nice to be involved, but club football is my priority at the moment.
"I can only thank [Martin Canning] for fighting my corner and that's one thing Hamilton do for you - they always try to promote you and that's what you want as a young player coming through.
"You can't let it get to you. Look, if it happens, it happens, but if it doesn't, it doesn't. There's still time to get in the squad so I'm going to keep working and try to perform and catch [Scot Gemmill's] eye again."
Docherty has been involved in all but one of Hamilton's games this season, having scored the play-off winning goal against Dundee United last term that preserved Accies' Premiership status.
And Hamilton host champions Celtic on Friday, having won two and drawn one of their last three games.
"We lost our first league game away to Aberdeen, but we were a bit unfortunate in that, then we lost during the week to them again [in the League Cup]," Docherty added.
"We bounced back really well and had three really positive results.
"There's nothing to lose. Celtic are expected to win, so you have to go and express yourself as best you can.
"We were written off at the start, but that suits us. It's the Hamilton way, we prove people wrong. This year we're going to try to show that we're worthy of where we are, and be a bit more consistent, particularly at home."