Barnsley's Stevie Mallan is ready to 'fight' for his place in Championship side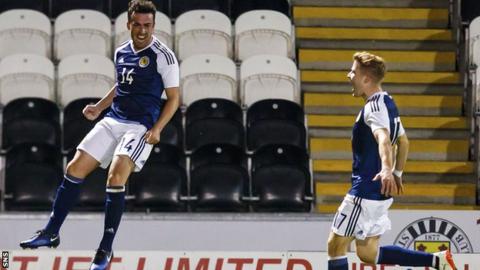 Scotland Under-21 midfielder Stevie Mallan is prepared to "fight his way" into the first team at English Championship club Barnsley.
The 21-year-old has not featured competitively since joining Paul Heckingbottom's men on a two-year deal for an undisclosed fee from St Mirren.
"I've gone from playing every week to not playing," Mallan said. "It's hard.
"I've got a lot of learning to do. I've seen the change going down south and a lot of my game I have to work on."
Barnsley, where former Partick Thistle defender Liam Lindsay also went to progress his career, sit 15th in the Championship.
Because of injury, Lindsay also had to wait to make his competitive debut, in a 3-0 win over Sunderland just before the international break in Barnsley's sixth game of the season.
And Mallan dismissed any talk of a move back to Scotland in the short-term.
"I've spoken to the manager and everything I'm doing just now is to learn more and more," he told BBC Scotland.
"I need to fight my way into the team and I'm looking forward to the challenge.
"The easy option is to come back, but that wasn't really in my thought process.
"I want to fight my way into the Championship and play my football in the highest stage you can.
"That's the next stepping stone for me, so I'm going to do everything I can to get into that team."
Mallan scored in the 2-0 win over Netherlands in Paisley on Tuesday as Scot Gemmill's under-21s began their 2019 European Championship campaign.
"It was a great result because everyone knows what the Netherlands can do," said Mallan.
"They're a great football team, but we just stuck to what Scot Gemmill told us and came out with the win.
"It puts us into a great spot in the first game of the group.
"We know all the boys are good footballers, but it's just the first game we've all kind of had together, because it's a lot of new faces we've had to play with.
"We wanted to keep our shape the first 10 or 15 minutes to work out how they were playing.
"Then the rest of the game took care of itself and we got a good couple of goals in the second half.
"It was a great experience for me coming back to St Mirren's park.
"I'm glad to get a goal for Scotland - one of my dreams have come true."