Chris Coleman: Wales probably playing for play-off berth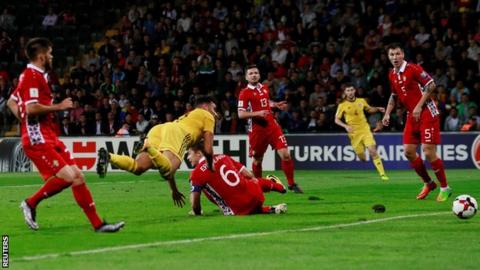 Wales are unlikely to automatically qualify for the 2018 World Cup in Russia, admits manager Chris Coleman.
A 2-0 win over Moldova on Tuesday has lifted Wales to second in Group D, four points behind leaders Serbia.
Eight of the nine best-placed group runners-up from European qualifying will face off in play-offs in November - Wales are ninth with two games left.
"It is exciting. If we have to get through the play-off, absolutely no problem at all," said Coleman.
Wales should ensure at least a play-off berth if they win their final two matches, in Georgia and at home to Ireland.
"Away to Georgia, it doesn't come much tougher, but bring it on - let's make sure we take the Red Wall with us," Coleman added.
"We will have to be a bit better than we have been in the last two games, with our all-round play, but in terms of courage and perseverance, we want the same again.
"We've got to finish the group in the same style and then we don't know, we will be in the mix.
"I think if you get 20 points you'd be unlucky not to get the play-off spot. That is the aim now. I've never been one to look beyond the next game. Realistically we have to get maximum to give ourselves a chance of second.
"Fair play to Serbia, they set the pace. It's theirs to lose."
Woodburn is a fantastic talent - Coleman
After grabbing the winner within four minutes of his international debut against Austria on Saturday, Ben Woodburn once again made an excellent impression against Moldova.
The 17-year-old Liverpool forward provided the assist that allowed Hal Robson-Kanu to break the deadlock.
"It was harder for him in some ways, than his experience in Cardiff, as we're a long way from home, the magnitude of this game, a point was not any good for us," Coleman said.
"We had to get three points. So for him to come on in a game where it was frustrating for us most of the evening and to do what he did, again, he needs a huge pat on the back.
"He's so young, but if you're good, you're good. If you are capable you are capable and he showed again he's got some fantastic talent."
'Not at our best'
Coleman hailed his side for grinding out a result in Chisinau when they really needed to.
"It was a good win, obviously not our best performance, but it was always going to be tough, we had to come here and win," he said.
"We talked for three days about being patient and it was hard to break them down, but I thought the lads did everything we asked.
"In this campaign, 50% of the game we've kept clean sheets, only one game we haven't scored in. We've got must-win games now but we've been here before."