Paul Barber: Brighton & Hove Albion chief executive wants early transfer window closure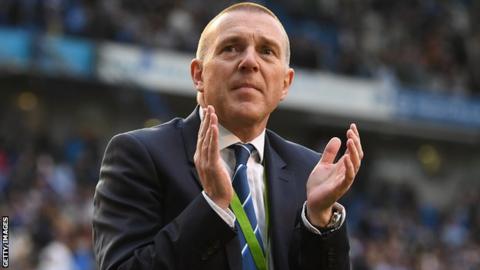 Brighton chief executive Paul Barber wants to see the summer transfer window close before the season starts.
Premier League clubs will discuss suggested changes at a meeting on 7 September, while EFL clubs are said to favour a shorter window.
"For me, the transfer window should close before a ball is kicked," Barber told BBC Sussex.
"It's unfair on managers, supporters and players that there should be uncertainty going into the season."
Barber added: "Managers spend the whole of the pre-season preparing their squad, only to find that within a few games of the new season they could lose the players that have been very much part of that preparation.
"And supporters may commit to buying a replica shirt with their favourite player's name on the back and then two to three games into the season he's sold."
'Very difficult and very complex'
An indicative vote will take place at this week's quarterly meeting of Premier League clubs with 70 per cent approval needed for it to pass.
West Brom manager Tony Pulis is among those to publicly support an earlier closure, but sports lawyer Chris Farnell predicted it would be tough to impose.
This summer's English transfer window closed on 31 August in line with many other European leagues, almost three weeks after the start of the Premier League campaign.
However, in Spain the deadline was 24 hours later, meaning La Liga teams could sign Premier League players, without their clubs being able to replace them.
Barber, the former commercial director of the Football Association, said: "These are inconsistencies that make this whole debate very difficult and very complex.
"Creating some kind of synchronisation of transfer windows closing is the ideal solution but it's going to be very difficult to achieve."