Scotland v Malta: Midfielder Ryan Fenech insists Malta are "not here on holiday"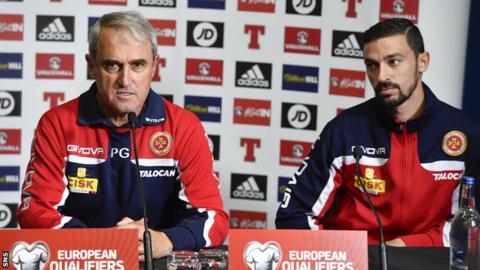 BBC coverage
How to follow:

Listen on BBC Radio Scotland 810 MW and follow text commentary on the BBC Sport website
Malta midfielder Ryan Fenech has warned Scotland his side are determined to take something from Monday's World Cup qualifier at Hampden.
Scotland go into their last three games in Group F knowing nine points are required to have a realistic chance of landing a play-off spot.
But Malta arrive looking to end their hosts' hopes at the first hurdle.
"Hampden is full of history and it will be an honour to play there, but we are not here on holiday," Fenech said.
"We know Scotland are tough to beat, they are physically very good. We expect a very tough match but our job as players is to give our all and try to get something out of the match.
"We respect Scotland, we know we are not up to that level, but obviously we will try to make it as hard as possible and try to get a result."
While Scotland were beating Lithuania 3-0 in Vilnius on Friday night to keep their hopes of securing second spot and a possible play-off berth alive, Malta went down 4-0 at home to England.
The hosts, however, held out until the second half and conceded three goals in the closing minutes as they chased their first points of the campaign.
"After a loss it's always difficult to pick up, but the result doesn't reflect the performance of our team," said Fenech, who plays for Balzan in his homeland.
"We were under pressure all the time but we knew it would be like that and we tried to keep the score down and hit them on the break."
Scotland are third in the group, four points behind second-placed Slovakia, who face England at Wembley on Monday night.
And Fenech believes the Scots are benefitting from having so many Celtic players at their disposal.
"They have the captain (Scott) Brown, and these players playing in the Champions League helps Scotland," he added. "The (Celtic) players play together in every match so that will definitely help."
Malta head coach Pietro Ghedin reckons the Scots have "improved a lot" since winning 5-1 away to his side in September.
"The last three games, Scotland have played really, really well," the Italian said. "They deserve this run, but I would like to stop them. It's not easy, though.
"We are a small country and at this moment Scotland are in a good condition. They are strong, they have a lot of possibilities to achieve second place."
Ghedin also felt his side were unlucky to finish on the end of a four-goal defeat against England.
"We played really well in the first half but of course they have a lot of the best players in Europe," he said. "I'm very disappointed.
"We conceded three goals because we were tired, a little bit under pressure. But I'm ready to play another good game."