BBC Sport - Irish Premiership: Friars goal gives Ballymena first league win of season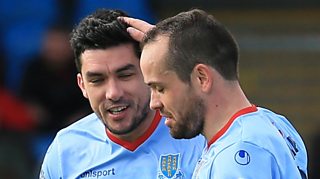 Friars goal gives Ballymena first league win
A late goal by Emmet Friars gives Ballymena United a 1-0 win over Cliftonville at the Showgrounds.
The defender flicked home Tony Kane's low strike on 80 minutes to earn Ballymena their first victory of the Premiership campaign.
Cliftonville are now eighth in the table on four points, one place ahead of Ballymena on goal difference.