Pat Nevin believes Gordon Strachan is getting best out of Scotland players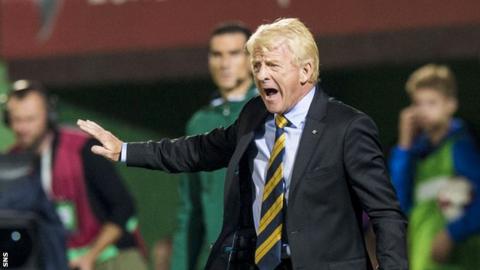 Former Scotland winger Pat Nevin believes Gordon Strachan is making the most of the talent at his disposal as Scotland chase a World Cup play-off.
Last November, the Scottish Football Association backed Strachan to continue as manager despite Scotland having only four points from four games in Group F.
But wins against Slovenia and Lithuania and a draw against England have boosted hopes of the team finishing second.
"I've always thought he was a really good manager," Nevin said of Strachan.
"The limitations of Scotland are the limitations of the players that we have had, but you've got to get them working as a team.
"There are so many times when you've said, 'wait a minute, you cannot get any more out of that group'.
"Whether you win, lose or draw, he's getting the best out of them and you can't ask any more than that.
"I know a lot of people got fed-up with him but it's never been me. I've always been on his side. I've always thought he was a really good manager and probably the best we've got."
Nevin, who won 28 caps across a decade from 1986, was impressed with Scotland's 3-0 win over Lithuania in Vilnius on Friday, describing it as "a completely controlled game".
"We played really well and, considering it was on a plastic pitch, Scotland dealt with it really well," Nevin told BBC Radio Scotland.
"(Kieran) Tierney and (Andrew) Robertson look international class, but the entire team did well, and well done to the manager too.
"You have to make sure that you understand how to play in those circumstances, make sure the players are up for it but not too panicked. I thought they nailed it for this one."
Scotland, on 11 points in Group F, are vying for second place behind England with Slovakia, on 15 points, and Slovenia, also on 11.
Strachan's side face Malta at Hampden on Monday, then host Slovakia on 5 October before finishing the group games away to Slovenia three days later.
"We'll need nine out of nine points," added Nevin.
"We hope England beat Slovakia in the next game. That allows us to know one thing - we win three games and we get into the play-off position."
Nevin, acknowledging that one of the nine group runners-up will miss out on the play-offs, feels the national team have a knack for finding "new and exciting ways to blow it".
But he added: "We've been incredibly unlucky on quite a few occasions over the past 15 or 20 years.
"One of these days we are going to get jammy and let's hope this is when it happens. It's not 50-50 but we're still in there with a fighting chance."