Chris Coleman: No regrets for Wales manager over his future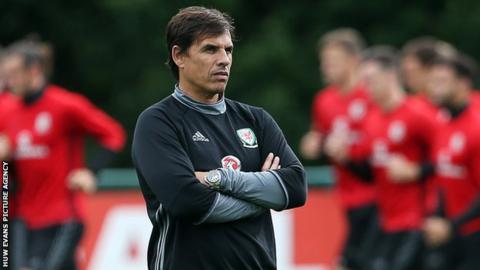 Wales v Austria, 2018 World Cup qualifiers
Venue: Cardiff City Stadium Date: Saturday, 2 September Kick-off: 19:45 BST
Coverage: Live commentary on BBC Radio Wales, BBC Radio Cymru & BBC Sport website and BBC Sport app, plus live text commentary
Chris Coleman is not one for regrets. An uncompromising centre-back during his playing days, he is now a manager clear in his communication and steadfast in his beliefs.
His Wales side are walking a tightrope in their World Cup qualifying group, treading precariously in third place, four points behind Serbia and the Republic of Ireland with four games left.
They face Austria on Saturday and, with the teams level on eight points, a draw or defeat could be terminal for either's aspirations of reaching next year's tournament in Russia.
Wales' hopes of qualifying automatically are in the balance then, and so too is Coleman's future.
In the immediate aftermath of last summer's historic run to the Euro 2016 semi-finals, he said this campaign would be his last in charge of Wales.
Emotions were running high in France, and Coleman is a man who lives for moments of high emotion.
Given how those comments have increased the scrutiny over his future, he would be forgiven for regretting making them before this campaign had even started.
"No I don't. I think you guys [the media] like talking to me because I wear my heart on my sleeve," Coleman says.
"Not everyone does that. I was honest and I do miss the day-to-day work [of club management].
"I go to games at the weekend and I'm sitting there a bit envious watching other managers.
"The trade-off I have is I have to think 'I'm manager of Wales', watching the boys singing the national anthem in Cardiff and the atmosphere. I'm there watching it and fronting that. That's the trade off.
"To think going into this Austria game that someone could be stood there doing it instead of me leaves a real bad taste, hence why I can't think past Austria, I thrive on that.
"I'm not sorry I said it because that's how I felt, but I can't sit here and say these are going to be the outcomes. The aim is Russia and that means we have to get Austria sorted out."
Austria find themselves in essentially the same position as Wales, with the same tally of eight points but trailing them on goal difference.
It is a game of enormous importance, and the kind of occasion which makes Coleman glad he is still manager of Wales.
Eventually, however, he would like a return to club management, ideally abroad. At 47 years old, he is in the prime of his managerial career.
Coleman has been linked with several Premier League vacancies since Euro 2016, and he has been offered jobs as well.
"Yeah. In 20 years' time I can say I didn't jump ship after we did what we did because I wanted to stay with Wales," he adds.
"It's a once in a lifetime opportunity and it's the best thing I ever did. It's the best job I ever took. But I meant what I said at the start of the campaign.
"The thought of handing it over and someone else standing there instead of me doesn't sit well. I can't say I'm torn, because in my head we're going to another tournament.
"That's what I think. In my head we'll do what we need to do. After Russia, I've got no idea. All I'm thinking about is Austria on Saturday night."
In the wake of June's 1-1 draw in Serbia, Coleman said his side would need to win all four of their remaining fixtures to keep intact their hopes of reaching a second successive major tournament for the first time.
Only group winners will qualify automatically for the World Cup, with the eight best of nine runners-up going through to the play-offs.
A draw on Saturday would do neither Wales nor Austria any favours but, even if a negative result was to effectively end his side's World Cup hopes, Coleman is not even contemplating the end of his tenure.
"No. It can't go wrong. It has to go right. We need this to happen," he says.
"Forget the next three. Whoever's fit and we've got ready for Saturday, no excuses, let's go and do the job. Let's see where we're at after that.
"I'm not saying if this happens I'll do this or if that happens I'll do that - I can't afford to. I'm all in, I'm still manager of Wales and I've got four games in my head.
"But I've got one game really which I've got to get right. I think we'll take it to the wire, I really believe that."