Sectarianism suffered by half of Scottish football fans, fans' survey finds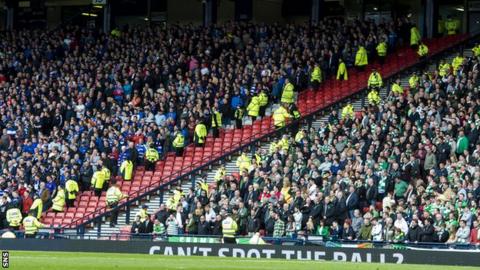 Half of Scottish football fans say they have been subjected to sectarianism in and around football stadia, with 81% believing it is a problem for the game.
But they told a Supporters Direct Scotland survey that value for money was "the biggest threat to the future of the game in the next five years".
The annual Scottish Football Supporters Survey had nearly 14,000 submissions.
SDS head Andrew Jenkin said: "Supporter experience is not rated highly and part of that is because of fan behaviour."
The survey also reported that 18% of those taking part claimed to have been subjected to physical abuse in and around Scottish football stadia.
And 71% of fans do not believe the Offensive Behaviour Act, introduced by the Scottish Government in 2012 to make sectarianism at football a criminal offence, has been effective in preventing unacceptable conduct by supporters.
Jenkin said that SDS, which carries out the survey in partnership with the Scottish FA and Scottish Professional Football League, had therefore asked the governing bodies to help organise a "supporter-led event" to discuss ways of tackling aggression at football matches.
Scottish Football Supporters Survey 2017
55% of fans do not believe Scottish football is committed to a high-quality fan experience
56% believe Scottish football doesn't reflect good value for money
63% are in favour of a pilot scheme to consider reintroduction of alcohol at grounds
71% were opposed to the Offensive Behaviour Act
52% do not want strict liability or were unsure about it
81% think Scottish football has an issue with sectarianism
50% have been subjected to sectarianism in and around football stadia
18% feel they've been subjected to physical abuse in and around football stadia
63% feel they should have partial ownership (including board representation) in their clubs
88% are in favour of safe standing
It has also called for the Scottish Government to review the legislation.
SFA chief executive Stewart Regan said: "Tackling unacceptable conduct also remains at the forefront of our minds and, earlier this year, we strengthened our guidance to our members with the clubs now accepting more responsibility in Scottish Cup matches to investigate and impose sanctions on those who have misbehaved at our games."
The SPFL last year rejected the idea of introducing a strict liability rule that would dock points from clubs should their fans continue to misbehave.
A small majority of fans - 52% - responding to the survey also rejected the idea or were unsure about it.
SPFL chief executive Neil Doncaster pointed out that his body updated its guidance on unacceptable conduct guidelines in January and recently "agreed to collate and share information with both the Scottish Government and Police Scotland regarding incidents" throughout the season.
"This demonstrates the SPFL's commitment to curbing unacceptable conduct in our stadia and we continue to work with the Scottish Government on this matter."
The majority of fans surveyed believe admission prices are either "very poor" or "poor" value for money and SDS has urged the governing bodies to hold a conference to examine ticket pricing issues.
However, Doncaster took heart from the fact that this figure had fallen from last year.
"A 14% reduction in those who deem 'value for money' as being poor or very poor is evidence that clubs are making some progress on this front," he said.
"On pricing specifically, the most recent BBC Price of Football survey again provided considerable evidence of ticket prices either being frozen or reduced across all leagues, with the average price of the cheapest season ticket across all 12 Ladbrokes Premiership clubs down."
Doncaster also said that "63% of supporters are in favour of the new format of the Betfred Cup is a real vindication of the brave decision of clubs to shake up the format - with the return to a pre-Christmas final particularly popular".
The fans survey found that 63% were in favour of supporters having partial ownership, including board representation, in their club.
SDS has urged clubs to think how they can further involve and engage fans in their governance and ownership and the group plans to issue advice on how to do so.