Rangers: Old Firm derby 'a privilege' to play in - Ronald de Boer
Last updated on .From the section Football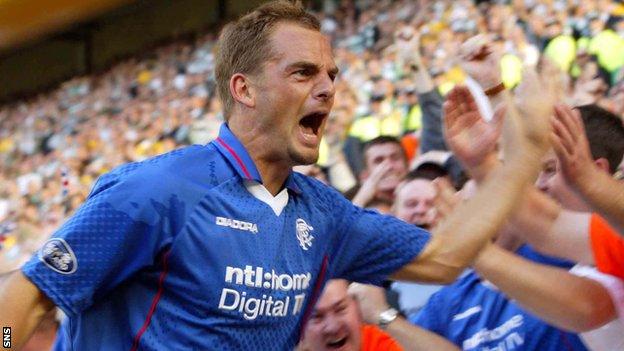 Former Rangers star Ronald de Boer has praised the "intensity" of Old Firm derby matches and insists they were a "privilege" to play in.
De Boer, who played for the Ibrox club for four years from 2000, said in games between the Glasgow rivals Scottish players turned "into angry wolves".
"People say you've never experienced something like this [Old Firm] before and it was true," he told BBC Scotland.
"It was amazing. It's part of life as a Glaswegian."
The former Dutch international, who signed for Rangers from Barcelona in 2000, praised Glasgow's insatiable appetite for football.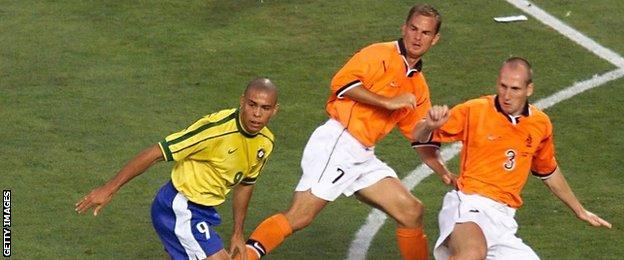 Scoring in first Old Firm game
"The experience was like, you've heard about it and people say you've never experienced something like this before and it was true. It was amazing. And you see the change in the Scottish players, a button turns: red eyes, they're like angry wolves. They were in another world and they kicked everything that was green and white, vice versa also.
"I'd never seen so much kicking in my life in a football game. And the referee was like, 'it's okay'. Normally in Holland, it would be a red card or at least yellow.
"It ended up with nine men or something; that was really what I remember from my first [Old Firm] game. Scoring was a great feeling and going to the fans - a great feeling."
Where does Old Firm derby rate?
"I always say: El Clasico, not far in comparison with intensity with Rangers v Celtic. You feel it, even the Barcelona players say that, when they go to Celtic Park, when they lost when Rod Stewart was crying, it was a great moment.
"The intensity - an unbelievable privilege to stand on the pitch. Everywhere I go, if I go to Dubai or Australia, and you meet Scottish people, in Holland maybe they'd never say 'I'm a Feyenoord fan' or 'I'm an Ajax fan' - [the Scottish people say] 'I'm a Celtic fan' or 'by the way, I'm a bluenose' always - until they die. It's unbelievable, it's so in their veins and in their blood. It's part of life as a Glaswegian."
Stopping Celtic's domination under Martin O'Neill
"Yes of course, because it hurts. Not winning the league and your biggest rival is getting away with it quite comfortably. They had a great team, but you also feel like, maybe a [few] quality injections, then we could do it.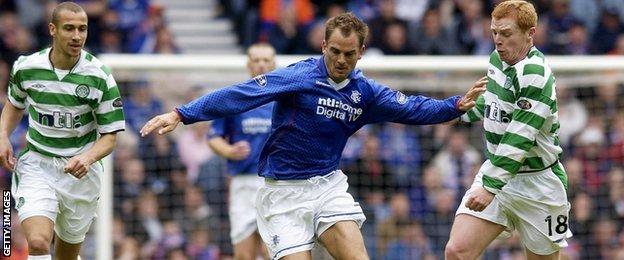 "So, the pressure was on every time, especially when you play those games and you meet each other at least four times a year.
"Then the third year, when it happens, so much (pressure) fell off your shoulders and you were so happy for the fans - and winning the treble was also a long time ago when it was [last] achieved - it makes it special.
"Then you look at yourself and what I said about winning the Champions League, you're really part of it. You have 12, 13 players who are really important in that treble - you were one of them."
On scoring 20 goals that season
"Yes, and I had over 20 assists. That was also one of my skills - sending someone away. I had a lot of great moments and [was] really consistent the whole season. When I look back, even with Ajax, scoring 20 goals and having 20 assists [for Rangers] I had never achieved that."
Was Barry Ferguson like one of those "angry wolves?"
"Yes, especially the first game. He was really kicking everybody, and I thought: 'Barry, you can do so much better than this', because he was a really good player. But then he forgot his football skills and he was like: 'I'm going to kick everything that's green and white'."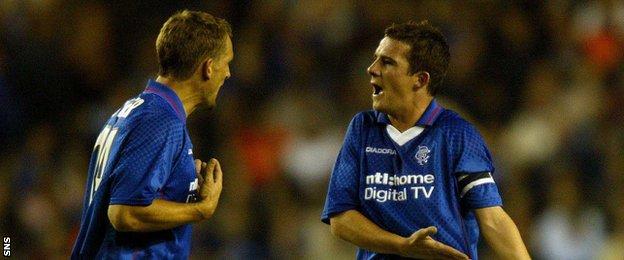 Final day when he won the treble
"It was difficult but an unbelievable relief when we won it because it was so important after two seasons of not even being close to Celtic. To win the treble was amazing."
How far away are Rangers from challenging Celtic?
"I think that in two years' time they can challenge. Not this season, another season… two seasons more and from the third season then they can challenge."
On Rangers' financial troubles
"You thought this was a never-ending story. Celtic and Rangers will always be together and no one gets those clubs down. And when this happened, it's so sad. When you're playing there for four years you know what it means for the fans and that's something that's very painful.
"I have a blue heart… it's something that you always wear. You always hope that they do well, when you see them struggling so much, it hurts."