Celtic rivals welcome potential Champions League windfall
By Clive Lindsay
BBC Sport Scotland
Last updated on .From the section Football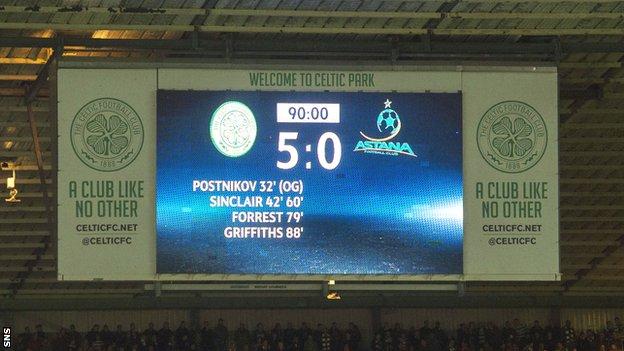 Celtic's 5-0 Champions League play-off win over Astana is a "huge" boost to Scottish football - and Partick Thistle, says Jags boss Alan Archibald.
Celtic's Premiership rivals will each receive £270,000 should the champions progress to the group stage after Tuesday's second leg in Kazakhstan.
"Everyone wants to see Scottish clubs doing well in Europe," said Archibald.
"Celtic are flying the flag fantastically well and hopefully that's them through."
If, as expected, Celtic secure a play-off victory against Astana they can expect to earn about £25m for their participation in the group stage of European football's premier tournament.
However, a further £3m will be shared between the Premiership's other 11 clubs.
Archibald continued: "It's a huge boost for Celtic and financially, it's great for us too, and other clubs, that they get that wee windfall when it comes.
"It helps us put a better product on the park and hopefully helps all the clubs, especially the ones participating in Europe get past the early rounds."
Hearts interim head coach Jon Daly acknowledged that Celtic's Champions League participation would further their financial advantage but believes their domestic rivals can still challenge them over 90 minutes.
"It's news I wasn't aware of, but that's great," said the Irishman of the potential cash windfall.
"It was a fantastic result so fair play to them.
"They've got £25m more than anyone else. What they choose to do with that money is their decision.
"But I think it's always difficult for them if teams go there and compete. If you cut out individual errors you give yourself an opportunity to go and get a result."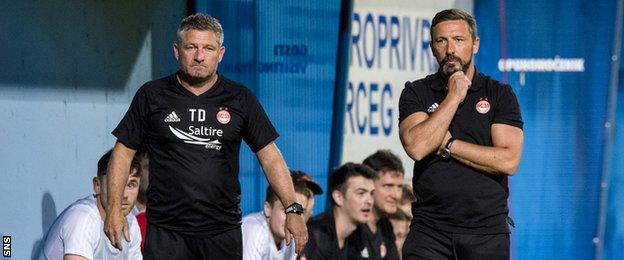 Tony Docherty, assistant manager at Aberdeen, believes the money "can only benefit the clubs and the standard of Scottish football".
He told BBC Radio Scotland: "You want to see success. It benefits everyone in Scottish football.
"All we can do is compete at our level and do the best we can.
"We can't do much about Celtic and their economics. They are strengthening year on year and we like to think at Aberdeen we are doing the same.
"We will try again this year to get as close as we can to them."