Astana manager Stanimir Stoilov calls for a disciplined display against Celtic
Last updated on .From the section Football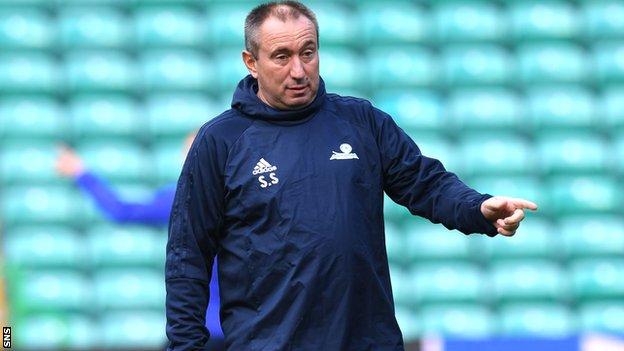 Astana manager Stanimir Stoilov admits discipline is a major concern for his side as they visit Celtic on Wednesday night.
The Kazakh outfit had two players sent off as they were knocked out at Celtic Park in the third round of Champions League qualifying last season.
And Stoilov wants to avoid any sort of repeat in the play-off round first leg on Wednesday.
"Discipline is, of course, the most important thing in the game," he said.
"We would like to play quite confidently although last time our emotions actually let us down.
"But we know it is going to be two games and not one. We know we must keep our emotions for both games and keep our motivation for both games."
Having drawn 1-1 in Kazakhstan last season, Celtic won 2-1 in Glasgow courtesy of a late Moussa Dembele penalty.
Igor Shitov was sent packing for the foul that led to the penalty and Dmitri Shomko joined him for his reaction to the decision as the visitors went out of Europe 3-2 on aggregate.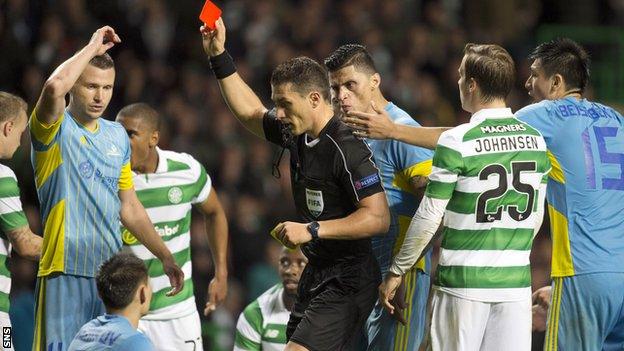 Stoilov knows his side face a tough task in Glasgow but remains hopeful his side can cause an upset.
"It doesn't matter how the first game ends," he said. "We are still going to be in the Champions League.
"I believe there is no need to motivate my players additionally.
"We know that Celtic is a big team historically and that is our motivation. Another is that the Champions League is in front of us and this is enough for the players to produce a good game.
"I think the team which plays better are going to get through to the group stages.
"We know that Mr Rodgers has had some time to grow and develop his team but we still feel we can get through and succeed."
Astana became the first Kazakhstan team to appear in the group stages when they qualified back in 2015.