Rangers: Boss Pedro Caixinha wants to bring in more new faces this month
Last updated on .From the section Football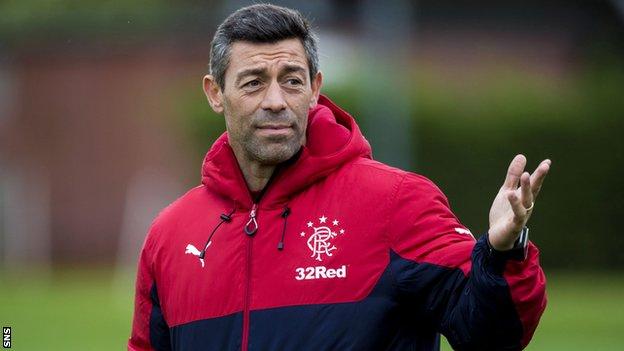 Rangers boss Pedro Caixinha is hopeful of capturing his remaining targets before the transfer window closes.
The Portuguese coach has added nine new faces since the end of last season but says he is not finished yet.
"The window closes at the end of the month, we know and believe in everyone that we are working in the same direction," he told the Rangers website.
"We know what we want to make our squad stronger or at least more balanced."
Caixinha revealed his captain Lee Wallace has returned to training following a thigh problem ahead of the visit of Hearts in Premiership action on Saturday.
He is hoping his side can bounce back from the 3-2 defeat to Hibernian on Saturday, and insists that result has only made his squad more determined.
When asked how his camp was in the wake of the defeat, Caixinha said: "Stronger and with even more desire to work and do things even better. The best answer is always work harder.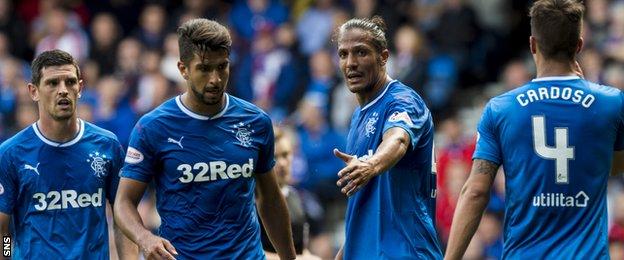 "Yesterday the boys came back into training, half did recovery and those who hadn't played or had played less time gave me one of the best sessions ever since we arrived.
"They need to be focused and work hard on the next game for us because that is the only option we have now.
"We have been great in the way we approach the game, the way we get into the game, the way we started the first 20 minutes was really brilliant.
"I believe the scoring chances we created were more than enough to be a comfortable result to control the game. I was very pleased with the boys for that, they did that very well and they want to keep it that way.
"Along the way we will reach half-time and not always be winning games by 3-0 or 2-0, so we need to understand that sometimes it is important for us to control the tempo.
"We always win so at least if we don't win we learn, so we never lose. What we learnt from this game is that we need to control the ball a little bit more in some moments because they equalised around 20-21 minutes and before that we had four easy losses which gave confidence to the opponent.
"Those are the points we need to keep working on, the boys need to understand it and of course during this week we will be a lot more focused on these things."