The Rock: Dwayne Johnson praises Adebayo Akinfenwa's celebration
Last updated on .From the section Football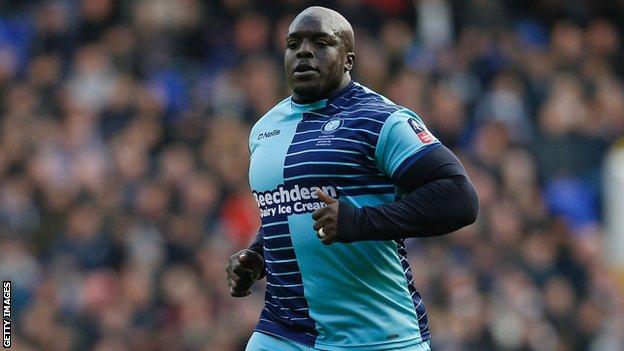 Adebayo Akinfenwa's latest goal celebration has received the approval of its creator, Hollywood star and WWE wrestler Dwayne 'The Rock' Johnson.
Wycombe Wanderers striker Akinfenwa, nicknamed 'the Beast' and known as the strongest man in football, dropped the 'People's Elbow' on team-mate Luke O'Nien after scoring his second goal in the 3-2 win against Port Vale.
The 'People's Elbow' - an elbow drop - was the signature finishing move of Johnson in his wrestling days.
Johnson praised Akinfenwa's effort, tweeting: "Heart stoppin' elbow droppin'.... well done brotha".
O'Nien joked on Twitter: "Just got out of A&E. Planning my pay back celebration."
One of The Rock's many catchphrases is: "Do you smell what The Rock is cooking?"