Chris McLaughlin's words of the weekend: Hibs' Lennon in Rangers spotlight

By Chris McLaughlin
BBC Scotland's senior football reporter
Last updated on .From the section Hibernian
BBC Scotland's senior football reporter, Chris McLaughlin, analyses a talking point from the weekend's action, asking what's behind the words.
Hibernian head coach Neil Lennon
"I didn't make a gesture, I am celebrating a goal. What way are you supposed to celebrate a goal? If I pick my nose, someone will find something to criticise me for."
Let's face it, there was little chance the fixture between Rangers and Hibernian was going to pass by without incident. All the elements were there and, in terms of satisfying the obvious, it didn't disappoint.
The rights and wrongs of what went on are for others to judge, but the post-match reaction was intriguing.
When the whistle blows on a 90-minute battle like the one witnessed inside Ibrox on Saturday, and after the last cries of jubilation echo into the late afternoon sky, fans, dejected or delirious, reach for their radios or feverishly scour social media.
It's one where the post-match reaction is not to be missed. Supporters want explanations as to why, assurances it's going to get better, or simply to hear that victory means every bit as much to their heroes as it does to them.
Journalists get exactly the same buzz - but for different reasons. We know our words, questions or tweets will help set the narrative for the coming days' coverage.
The bigger the game, the more intense the scrutiny. It's why we do what we do and, with Neil Lennon added to the mix, it's rarely dull.
There were two obvious lines of questioning for the man from Northern Ireland after his side's 3-2 win. The victory itself - a huge statement of intent for a side newly promoted against a side assembled with the help of a pretty sizeable war chest.
Then there was Lennon's reaction to his side scoring the equalising goal. The cupping of both ears while looking towards fans is almost as old as the game itself, but it never fails to get a reaction.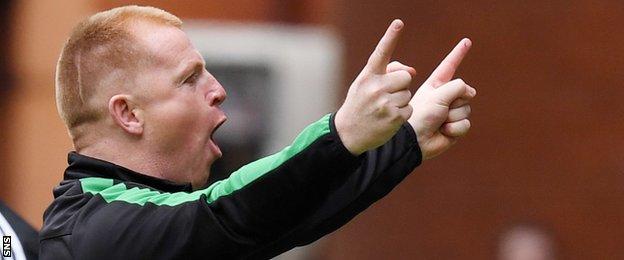 The one-armed gesture is similar, although the opposite hand placed on the bicep of the raised arm seems to have added an edge and, with it, the realistic chance of punishment. This addition, these days, is seen more as "get it up you" than "get in".
Whatever the intent, Lennon has been around the game long enough to know there could be repercussions and, at the very least, that he'd be asked about it afterwards.
His response was as predictable as the abuse that led to the response. As a player, he battled with other midfielders, as a coach and manager, he's had touchline battles. He has also had a few confrontations with the media.
Mic in hand and live on air, I've been on the receiving end myself in the past. It's part of what makes him a winner.
He will defend his right to be who he is and he will defend it passionately. That's what we got when he was quizzed about his gesturing.
In terms of the incident, it now falls to the Scottish Football Association's compliance officer to decide if Lennon broke the rules. TV footage and photographs will be analysed before any decision is made.
What seems black and white for fans is all shades of grey and anything in between for the man who will have the final say. Forget the Scottish Professional Football League, this is one for the SFA.
Those on the receiving end believe Lennon courts controversy. His latest post-match quotes will tell you he believes he is unfairly victimised.
It's difficult not to have sympathy with both arguments. His passion is never in question - it's what attracted him to Hibs in the first place and what attracted the club to him.
It's why the fans love and hate him in equal measure. It's why journalists and reporters know when they enter a room with him in it, they're not leaving empty handed.