Kris Commons remains patient in comeback bid following back operation
Last updated on .From the section Football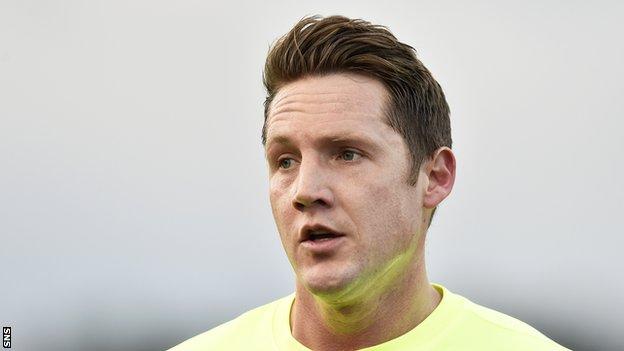 Kris Commons aims to resume his playing career but is remaining patient in his comeback following a back operation.
Former Scotland midfielder Commons, 33, enjoyed a loan spell at Hibernian and is a free agent after leaving Celtic.
"It's nice to get in and out of bed without any pain," Commons told BBC Radio Scotland's Sportsound.
"I need to take my time; there's no rush to get back into football. Fingers crossed I can get to a level of fitness where I can get the boots back on."
Commons scored twice in five appearances for eventual Championship winners Hibs over December and January but did not feature for Celtic in season 2016-17.
He scored 91 goals in 226 appearances for the Scottish champions, winning five league titles during his Celtic career.
On recovering from back problems
"Twelve months of sciatic pain. For all the listeners who have or haven't had it, once you've got it, it's very difficult to shift it.
"Obviously, 12 months down the line, I had to have an operation to finally rectify the problem."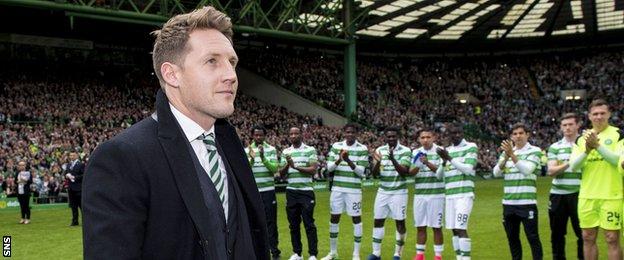 On prolonging his playing career?
"Definitely. I'm back in the gym and just started doing light work: bike sessions, swimming, mobility, all that sort of thing.
"I'm hoping I'll get the green light for tomorrow when I can start running, so yeah, I'm looking forward to it.
"If I do pass all the relative tests, I've got to do in the next few weeks and months then, yeah, I'd like to put the boots back on.
"But, in my own head, I don't want to build expectations of 'I'm desperate to play, I'm desperate to get back to football' for it to not quite work out and have the disappointment of I couldn't get back.
"I'm just taking every day as it comes."
On potential coaching role in future
"I've done my B licence and had the joy of 12 months behind the scenes looking at [Celtic manager] Brendan Rodgers and how he works, not just on the field but in the office and in and around the sports science department - what's required to be a top coach.
"Because I wasn't in the mix of playing football, it gave me an extra opportunity to see how it works; all his training sessions and all his logbooks - everything that he'd done pre and post-match.
"It gave me a big insight into how a top manager works. That was the advantage of not playing, but the coaching role, for me in this moment in time, I'm not ready to do that.
"I don't feel as though I'd have 100% dedication to it and Brendan has given me an insight into how far behind I think I am at being a coach.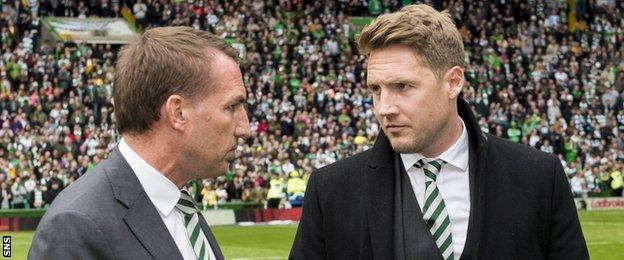 "He's a cut above and if you're going down that line of work then you can't just be a little bit dedicated - your whole life is going to be taken up from being a coach.
"It's something that I can't take lightly; it's a 12 to 16-hour day, every single day.
"And, if you want to become better, you've got to have targets and you've got to get better every single day.
"Brendan's done everything in the game of football, but it's his drive and dedication to keep getting better: speaking Spanish and learning Italian, keeping in touch with ex-managers and taking the next step.
"It's that drive that then goes into his team."
On retiring from Scotland duty - any regrets?
"No, there was a lot of things happening at home at the time. My boy had been rushed to hospital for meningitis tests.
"It was a time when I wasn't really playing international football; I had a good chat with Neil Lennon and he was desperate for me to keep playing with the national team.
"But I just felt that I wanted to put every ounce of drive and energy into playing club football. I wanted to play for Celtic for as long as possible.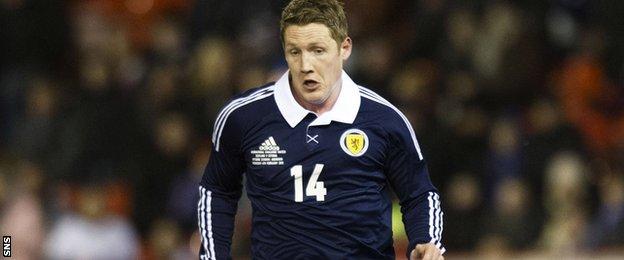 "All the travelling that went with international football, and getting together with the squad, and not guaranteeing football, it wasn't like with Scotland we were beating teams on a regular basis.
"You were coming away from Scotland trips a little bit down - got beat 3-0 there, 4-0 there and coming back with little niggles and stuff. It was hampering my club career.
"Certainly, when I did play for Scotland, when you line up there, listening to the national anthem and knowing you've got a family - yeah, it's one of the prized moments of my career."