David Templeton: Winger seeks fulfilment after knee injury almost ended his career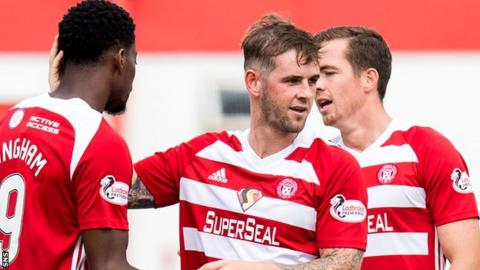 David Templeton admits he had decided to retire from football as he battled to overcome a persistent knee problem.
The Hamilton Academical winger, 28, was released by Rangers in June 2016, and spent 10 months without a club.
"I was away from Rangers and I didn't know what my next step was," Templeton told BBC Scotland.
"I'd spoken with my agent and said I was going to retire - he got me in touch with a surgeon in London and he had a look at it and sorted it for me."
Templeton signed a short-term deal with Martin Canning's Accies in March, latterly extending his terms until the end of the 2017-18 campaign.
The former Hearts attacker says being let go by then-Rangers boss Mark Warburton forced him to accept that his football career may be over.
'I'm going to have to get a job'
"While I was at Rangers at the end of that season, I still had it in my head it was going to be okay, I was trying different stuff," Templeton added. "It wasn't until I left that it hit that I didn't know how to sort it.
"That's when I was thinking, 'I'm going to have to go out and get a job,' and I had no idea what I was going to do - it was not something I'd actually thought about at that point. It was mentally tough having to think about chucking the thing you've known all your life.
"It was more mentally difficult than physical. It was just the not knowing exactly what it was that was the worst part about it. Trying to come back and breaking down with the same pain, having no idea what the injury was for over a year. That was the worst part - the not knowing.
"The PFA send stuff regarding courses to do, and when you play football you never really think you're going to get an injury and it's going to come to an end. I know myself I never really looked into it because I never thought I was going to be in that situation. But now that it's happened, I'll look into maybe doing something else now and that's something that I'll look to the PFA for."
Anfield strike
Templeton rose to prominence at Hearts, where he made 94 appearances, and scored against Liverpool at Anfield during the Tynecastle club's 2012 Europa League qualifying campaign.
He was bought by Rangers just a day later, as Ally McCoist looked to bolster his squad ahead of an impending Scottish FA-enforced transfer embargo.
But the former Scotland Under-21 cap struggled for fitness and form during a frustrating four-year spell at Ibrox.
"When I moved to Rangers, things didn't really work out for me," Templeton said. "I wouldn't say I regret it but looking at it now it didn't work out the way I wanted.
"At the time, you could never say no to Rangers and it's just unfortunate things didn't work out for me. For all I know, things could have gone a totally different way and I could still be there. At the time I didn't perform as well as I wanted to and had a few injuries there as well.
"It is a huge change going there, the expectancy, the pressure, everything. When things aren't going well, it is a tough place to play. I wasn't playing as well as I knew I could."
'I want to enjoy football again'
After signing for Accies, Templeton helped keep the club in Scotland's top flight, as the New Douglas Park side beat Dundee United in the Premiership play-off final.
He has made 11 appearances for Hamilton, and after enduring such a long battle with injury, is focusing on fulfilment and regular match action.
"The main aim is to try and play as much football as I can," he added. "I missed so much with the injury and then at Rangers not playing as much as I would have liked. If I do that, who knows where I can go after that?
"I want to keep fit, try and play as much as possible and just enjoy my football again. Hopefully I can play as much as possible this season and help Hamilton stay up, which is the main aim.
"When I was at Hearts, I was playing my best football when I was enjoying it. If I can enjoy playing on a Saturday, I know that's when I'll be playing my best."