Uefa Women's U19 Championship: Northern Ireland prepare for Scotland 'derby'
Last updated on .From the section Women's Football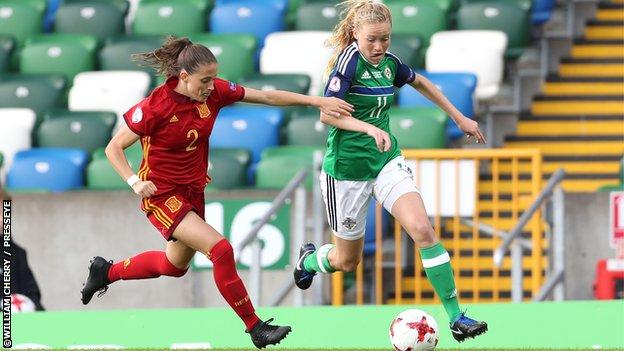 Uefa Women's U19 Championship 2017
Venue:
Northern Ireland
Dates:
8-20 August
Coverage:
Northern Ireland group games streamed live on the BBC Sport website (UK only)
Northern Ireland are hoping to build on their performance during the opening night loss to Spain ahead of their 'derby' against Scotland at the European Under-19 Women's Championship.
The host nation were beaten 2-0 on their tournament debut at Windsor Park.
Team captain Emma McMaster praised the side's work-rate and tactical approach.
"I'm so proud of the way the girls followed the plan set out by the coaches and we'll have more confidence going into Friday's game."
"It's a local derby so we'll have to prepare differently [for that]," McMaster said.
"They're going to be setting up differently against us and we're really looking forward to it."
Scotland began their Group A campaign with a 3-0 defeat to 2011 winners Germany on Tuesday, meaning that both teams will be seeking their first points of the tournament when they meet at Mourneview Park.
"Scotland is a different proposition now and both of us will maybe approach it a bit differently," said Northern Ireland manager Alfie Wylie.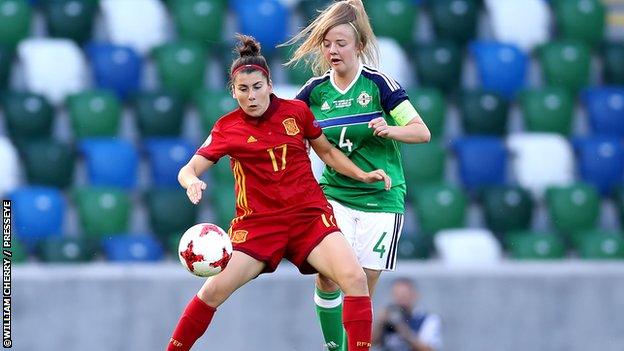 "What everybody has to remember is that every other team in this tournament qualified [for it]. They finished top of their groups in qualifying rounds and they finished top of their groups in elite rounds and, if you like, we got a bye.
"So these are the seven top countries out of the fifty-odd in Europe and Scotland are right up there. Scotland knocked Finland out, who were one of the favourites, and the Republic of Ireland, who are a super team"
"We know it's going to be a really hard match but we'll approach it with confidence and as always I think the girls will give everything they have."
Wylie delighted with home support
A record crowd of over 4,200 were in attendance for Northern Ireland's opening match and Wylie says the level of support was a real boost to his side.
"They really got behind the team, any time we were on the attack or any time we did anything they really got behind us.
"The tournament organisers have put so much into this and they deserve that and more for the number of people to turn up to watch the games."
Group A
Northern Ireland, Germany, Scotland, Spain
Group B
Italy, Netherlands, France, England
| Tuesday, 8 August | | | |
| --- | --- | --- | --- |
| Scotland | 0-3 | Germany | Belfast |
| Italy | 1-2 | England | Lurgan |
| France | 0-2 | Netherlands | Ballymena |
| Northern Ireland | 0-2 | Spain | Belfast |
| Friday, 11 August | | | |
| --- | --- | --- | --- |
| Italy | v | France | Belfast 15:00 |
| Germany | v | Spain | Portadown 15:00 |
| Netherlands | v | England | Belfast 19:00 |
| Northern Ireland | v | Scotland | Lurgan 19:00 |
| Monday, 14 August | | | |
| --- | --- | --- | --- |
| Netherlands | v | Italy | Portadown 15:00 |
| England | v | France | Ballymena 15:00 |
| Spain | v | Scotland | Lurgan 19:00 |
| Germany | v | Northern Ireland | Ballymena 19:00 |