Marvin Johnson: Oxford United owner Darryl Eales confirms winger 'not for sale'
Last updated on .From the section Football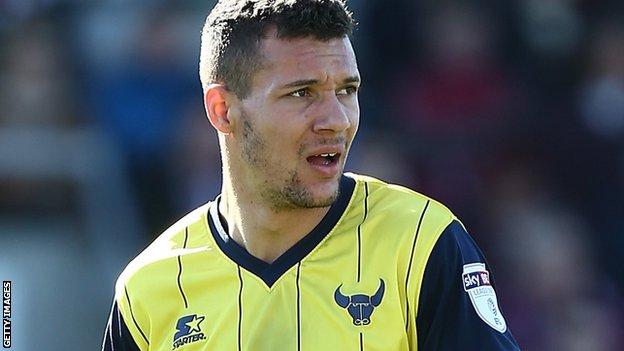 Oxford United owner Darryl Eales has confirmed no offers have been made for winger Marvin Johnson.
Eales stressed the 26-year-old is "not for sale" and confirmed manager Pep Clotet will make the final decision on any player's future at the club.
"Marvin is on a two-year, plus one-year extension, contract and unless someone comes in with some unbelievable offer, he will be at this club," Eales said.
Johnson has been linked with a move away from the League One side.
Speaking after Tuesday's EFL Cup first round defeat by Cheltenham Town, Clotet said Johnson is "responsible for his own performance" as he called for more consistency from the former Motherwell player.
But, speaking at a fans' forum on Wednesday, Eales stressed Oxford United would not allow Johnson to depart with ease.
"The only way we would release Marvin is if Pep agrees to it and not me," he said.
Meanwhile, the club also confirmed defender Charlie Raglan requires surgery after rupturing ankle ligaments in training.
The 24-year-old is set to miss up to four months of the season.