Hayatou hits back at Ahmad in 2019 Nations Cup row
By Leocadia Bongben
BBC Sport, Yaounde
Last updated on .From the section Football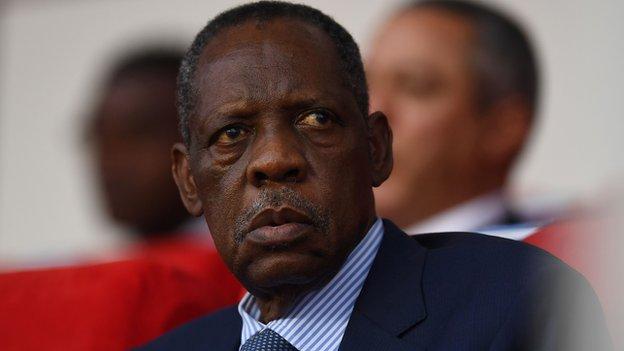 Former African football head Issa Hayatou has hit out at comments made by his successor, Ahmad, about Cameroon's readiness to host the 2019 Africa Cup of Nations.
Ahmad, who replaced Hayatou as Confederation of African Football (Caf) president in March, said on Saturday that Cameroon 'will have to work to convince Caf of its ability to host.'
Hayatou, a Cameroonian himself, says Ahmad should have made his comments after a Caf inspection visit later this month.
"The unpreparedness of Cameroon cannot be judged two years before the competition," Hayatou told a Cameroonian radio station.
"There is an undertone when the Caf president talks about an independent evaluation team. This is worrying."
Madagascar's Ahmad has said that the inspection visit from 20-28 August will not be carried out by Caf Executive Committee officials, as has happened in the past, but outside experts.
In July, Cameroon's Sports Minister denied reports that the country was behind schedule with its preparations.
Like Hayatou, Cameroon's football federation Fecafoot is also concerned by Ahmad's comments - noting them 'with profound disquiet.'
"One may question the rationale of this inspection visit as the outcome seems to have already been decided at the highest level of Caf," said Fecafoot president Tombi A Roko Sidiki.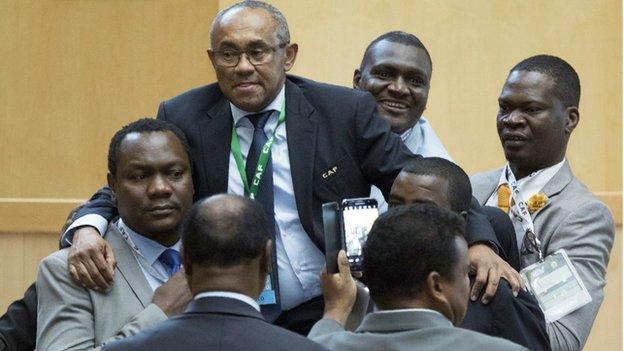 Tombi highlighted the successful organization of the African Women Cup of Nations in Cameroon, using stadiums in Yaounde and Limbe - both of which have been selected to stage an expanded 24-team Nations Cup in 2019.
Tombi also stressed that a vast programme for the construction and rehabilitation of sports infrastructure worth millions of dollars has been launched with the support of partners.
"In the light of the statement by the Caf president, it is difficult not to pay attention to persistent rumours of a conspiracy intended to withdraw the 2019 Nations Cup hosting from Cameroon to another country," added Tombi.
In recent weeks, Morocco - which lost the rights to host the 2015 Nations Cup at short notice - has made no secret of its desire to step in as a replacement host.