Put Scotland's interests before club game, says Henry McLeish
Last updated on .From the section Football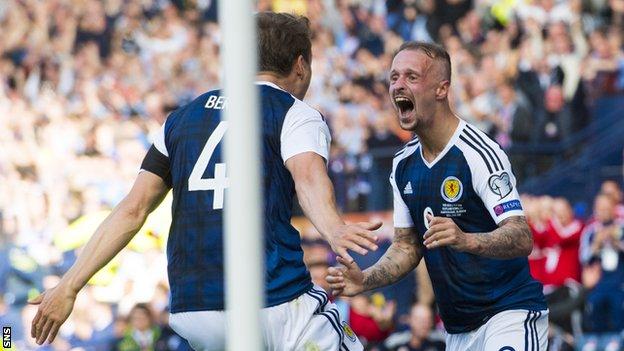 Former First Minister Henry McLeish has called for Scotland's national team to be given more priority than the club game.
He told BBC Radio Scotland's Off the Ball "a lot of progress" had been made since his 2010 recommendations.
But he explained: "I just feel that the national side is playing second fiddle to the club game."
Scotland missed out on last summer's Euro 2016 finals, unlike many smaller European nations.
McLeish reiterated his view that Scotland cannot keep turning to excuses when they fail to qualify for major tournaments, having missed out on the past five European Championships and the four World Cup tournaments since France 1998.
"The real 'smell the coffee' situation was when the European Championships took place and Iceland were there, Wales were there; Northern Ireland, Irish Republic and Albania.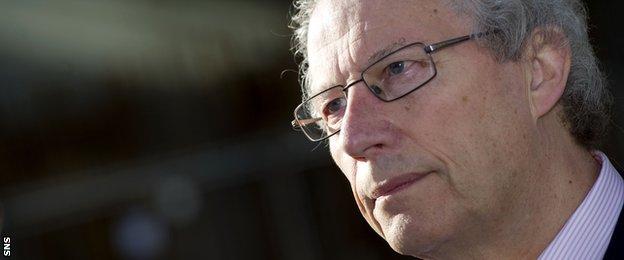 "Wales have a system, Wales have some ideas, Wales have qualifying for international tournaments.
"There's some lessons for Scotland to learn from these other countries when in fact, they can build up a method, qualify for tournaments and it's maybe a lesson that we should learn."
Scotland's World Cup dream
The Scots sit fourth in their qualifying group
Leaders England are six points ahead of Scotland, two ahead of Slovakia, three in front of Slovenia
Scotland's remaining fixtures - Lithuania (a), Malta (h), Slovakia (h), Slovenia (a)
The Scottish FA appointed former Watford manager Malky Mackay as its new performance director last year and the ex-Celtic defender is overseeing Project Brave, the associations' revamp of youth football.
And McLeish feels "more investment" is needed and that the amount of foreign players in Scotland is "still very high".
"We need a stronger SFA, we need the clubs to be partners with the SFA in implementing what the SFA requires for Scotland," he said.
"They've done a lot of good stuff over the last few years. It's about the culture of the organisation, it's about the institution itself. It's defensive, they circle the wagons too often, they've got a great deal to offer, fan involvement's not what it should be.
"The number of foreign players that are in Scotland - encouraging, enriches our culture. But how good are they?
"What would be the difference of getting extra investment to bring on our young talent? You maybe have to wait a year or two years or three years.
"There's still a notion to think that, 'well we don't have the talent'. Of course we have the talent but what we don't have, for me, is a big enough ambition."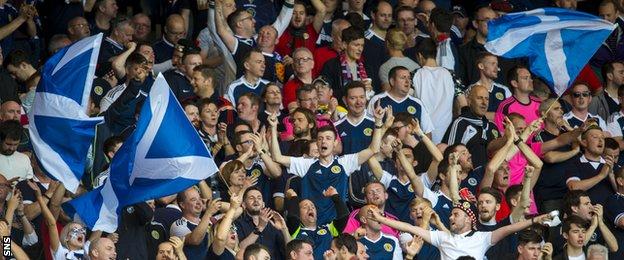 McLeish urged fans to put international hopes above domestic ambitions.
"The most important thing is for Scotland to qualify for the European Championships and the World Cup - not club success," he said.
"My main concern is for Scotland to be on the international stage so therefore, for me, country comes before club.
"But we want to have both. I think that's right but there's a better balance to be had and that's why I think the national side has to just be given an overwhelming priority.
"This is now maybe an opportune point for the game to have a further look at itself.
"I don't mean necessarily a big report or a big reform but we need a debate which will actually look at the results of these international tournaments and actually strip away [excuses like] 'kids have too much technology', 'not enough poverty to make people desperate to play', 'too many cars on the street'.
"Every country in the world's got the same problems.
"When you take Iceland, which is the same size as Fife - 350,000, and I thought at that tournament a year ago all the excuses that Scotland ever had just disappeared."