Hearts: Ann Budge says no rush in finding Ian Cathro's successor
Last updated on .From the section Football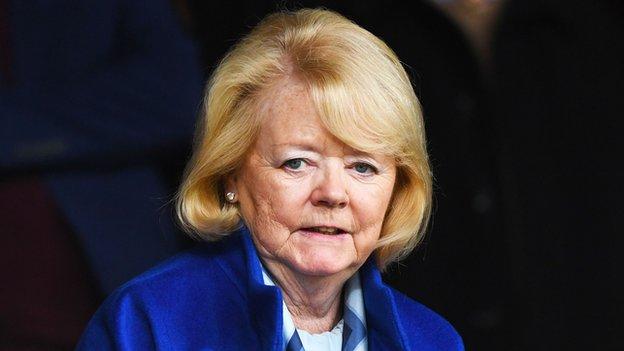 Hearts have been "swamped by applications" in their search for Ian Cathro's successor, according to the club's owner Ann Budge.
Budge said having the interim coaching staff in place gives Hearts "the luxury of time" to make the right appointment.
On Jon Daly leading Austin MacPhee as interim coach, Budge said that the latter also had transfer and Northern Ireland duties to focus on.
Cathro was sacked by the board earlier this week, seven months into his reign.
Daly will take charge of the first team for the Scottish Premiership opener against Celtic, supported by MacPhee and first-team coach Liam Fox.
In a statement on the club's website, Budge said Hearts "are carefully considering all options regarding the future management of the first team".
"This decision [sacking Cathro] was not taken lightly," she added. "I want to stress that the board is in no doubt that Ian will go on to be successful in his chosen career and we wish to thank him wholeheartedly for everything he has done to help prepare us for the coming season.
'Willing to hold the fort'
"We are in the very fortunate position of having an extremely strong football management team in place, with a director of football, an assistant head coach and a team of first class coaches, able and willing to hold the fort. This being so, we have the luxury of time to ensure we make the right decision for the club going forward."
Regarding the composition of the interim coaching staff, Budge said: "There has been some speculation as to why Austin, as assistant head coach, has not been asked to take the lead on this.
"I would simply say that this decision was taken in discussion with all parties, knowing that a permanent appointment will not be rushed.
"Austin has some upcoming and very important games for Northern Ireland and in addition, he has been heavily involved in our summer recruitment programme.
"As we have previously stated, we are still anticipating some new signings with the transfer window still open until the end of August. For these reasons and for reasons of continuity we believe that this is the most appropriate interim arrangement."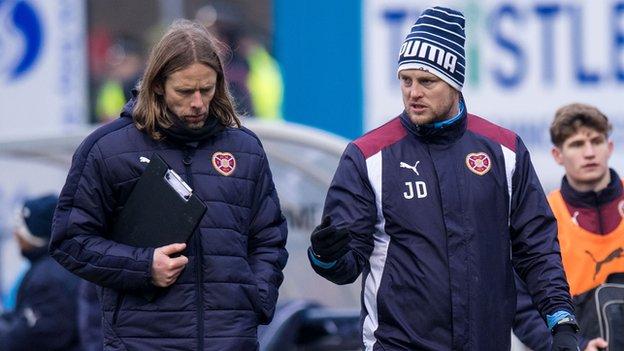 Budge also explained the delays to the construction of Hearts' new main stand that mean the club will now not play any matches at Tynecastle until November.
Emphasising that the delay is "entirely down to an error on the part of the club," Budge said: "The club, quite simply, did not process the order for the seats in the required timescale to ensure delivery in line with our plan.
"Unfortunately, the supplier did not escalate this and as a consequence our production slot was missed and the required shipping dates could not be met. By the time this came to my attention, there was nothing that could be done to expedite delivery."