Michael Mols on his Rangers days, Celtic dominance and 'real professional' Miller

By Tom English
BBC Scotland
Last updated on .From the section Football
When the chat turns to the modern day, instead of the days when he tore it up for Rangers and won a treble in his penultimate season at Ibrox, Michael Mols mentions that he was in Glasgow to watch his old team play Progres Niederkorn last month.
Quite where he was when the return leg was happening is unclear, because when that's spoken of he shakes his head as if trying to flick the memory of it out of his brain.
"How many points were Rangers behind Celtic last season?" he asks. Thirty-nine is the answer. "No," he replies. Not "no" as in he doesn't believe it, but "no" as in he doesn't want to believe it, doesn't want to accept it.
It's got to be hard for a player like Mols, and the legions of other foreign players who did great things at Ibrox, to fathom what has happened at their old club these past years. They watch from a distance unsure of what on earth is happening. Their memory of Rangers is of a club in a relentless pursuit of titles, either as champions or challenger to Celtic.
Those days are still vivid to him. The first trip to Glasgow and Dick Advocaat waiting for him at the airport. The drive to Ibrox and the big sell from his fellow Dutchman. Advocaat told him that if he thought Ibrox was impressive as an empty stadium then he should sign on the dotted and hear what it was like when it was full. He did, for £4m.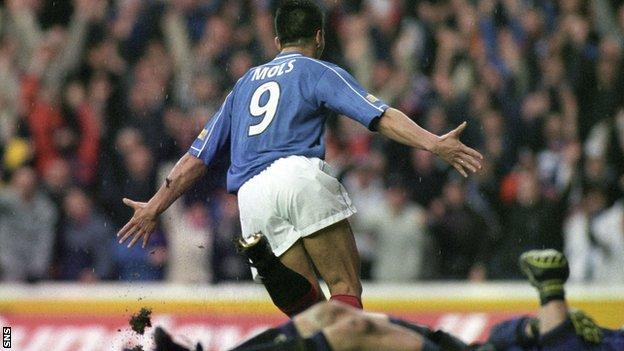 "Dick was a football fanatic," Mols says. "Football was, and is, his life. He knew everything about an opponent. Watched every game, even if it was an amateur team from Iceland. He liked to control everything, even the kit. He asked for our shorts to be made shorter once because he thought it would make us quicker. I didn't like it so I asked the kit man for an old, longer pair. Dick saw them and gave the kit man dog's abuse. That was Advocaat."
Mols tells a story about his time in Glasgow. The back-drop was this: he had joined Rangers from Utrecht in the summer of 1999 and from early on he looked a pedigree striker. He scored two goals on his debut against FC Haka in the Champions League, scored four against Motherwell and scored two in a 4-1 rout of a PSV Eindhoven team that had the celebrated pair of Ruud van Nistelrooy and Luc Nilis playing up front.
After scoring 13 goals in his first 20 games, Mols was a star. Then a terrible injury against Bayern Munich in the first week of November cast him into darkness. He missed the rest of the season and struggled to make much of an impression for the two seasons after that before being told that the then Rangers manager, Alex McLeish, wanted to offload him.
"It was hard because I had to play in the U-21s, I needed the stadium, I needed the excitement. You see the team sheet and you're not in the squad and those are hard moments. At the end of the season the manager came to me and said, 'You can leave if you can find another club. We won't make it hard for you.' I went for a trial with Sunderland."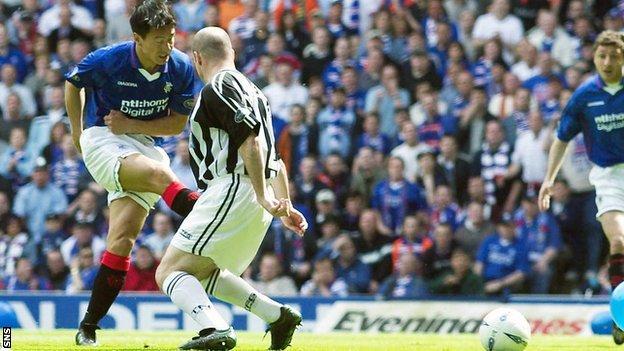 Happily for Mols, and Rangers, the deal fell through. He won his place back, started scoring again, and ended up helping break Celtic's dominance under Martin O'Neill by winning the treble. You'd have thought that the final day drama against Dunfermline - and victory in the league by a solitary goal - would have been the high-point of his Rangers career, but he says it wasn't. It was unforgettable, but it wasn't the best.
"Winning that league title was just an explosion of joy. The two minutes we spent waiting for Celtic's result to come through were the longest two minutes of my life. For me, the most special moment was the League Cup [in 2003]. It was my first trophy after my injury. When I lifted the cup it was my dream come true because the reason I signed for Rangers was to win prizes and play Champions League. After my injury, I thought my dream was finished.
"I still follow Rangers. When you leave, you're not a player anymore, but you become a supporter." To emphasise it, he says that the administration and liquidation of Rangers in those fateful days five years ago "killed Scottish football". Not many outside of Ibrox would agree, but Mols doesn't care much about that.
"How many leagues have Celtic won now?" Six-in-a-row. "But four without Rangers. The challenge was always Rangers and Celtic. It wasn't a challenge for four years, so you think it's an achievement winning six-in-a-row or not? For me, Celtic winning the four years Rangers weren't there, I don't think it's an achievement. No."
It's not an opinion he expects many outside Rangers to share.
He's 750 miles away in Amsterdam, but there's no escaping certain things. The EBT chat? He's heard it - his was worth £260,000 - and here's his take on it. "I just wanted to play for Rangers, I would have played for petrol money. I didn't tell them that. They say, 'You can help the club by doing it this way'. I said, 'OK, as long as I don't get into trouble'. They put it on a letter and at the end of the day the responsibility is with the club. My agent agreed and also the guy who was doing the tax, because I don't have a clue about that. I assumed they had the knowledge about it. I agreed with it. I said, 'No problem, as long as I don't get into trouble.'
"I think he (Sir David Murray) knew what he was doing. It's hard to put the club in that situation. I wouldn't do that. It affected so many people who are following Rangers and you see the result. Four leagues down. It affected the whole of Scottish football. Yeah I would blame him or his advisors."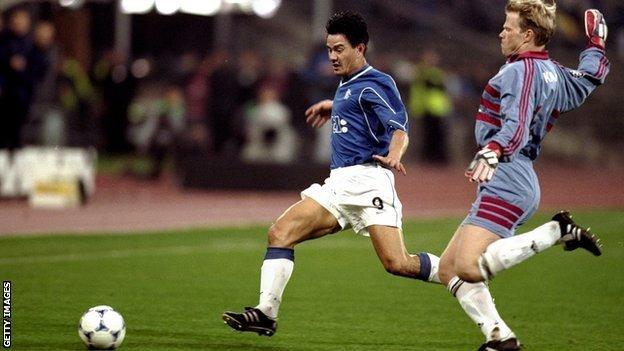 The title-stripping furore? That's carried on the wind from Glasgow to Amsterdam as well. "I don't even know where my medals are. They can take away my medals or my titles but they can't take away my memory. I won on the pitch. If Aberdeen did the same, EBTs, would they become champions? Or the guy from Dundee United (Stephen Thompson) who makes a lot of talking about that? Would they become champions? I don't think so. They need to move on now. Think about their own situation. They (United) need to worry about getting back to the Premier League."
Mols tries to remember the first time he played a competitive game for Rangers with Kenny Miller. It was a long time ago, he knows that much. A long, long time ago. Fifteen years, sixteen years? Was it Dundee away? It was. Seventeen years ago next month.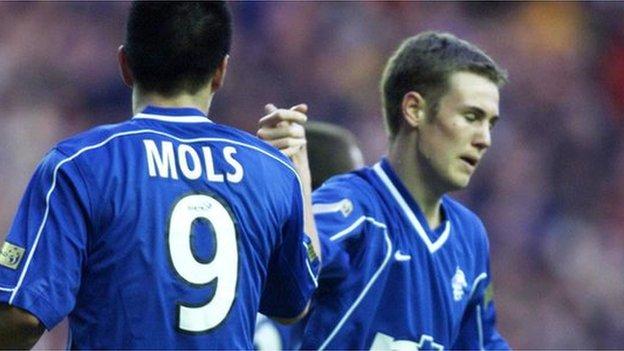 Neil McCann for Rangers, Juan Sara for Dundee. A 1-1 draw. "And he's still playing. Kenny's an example of how to be a real professional. I saw him playing a couple of weeks ago and he still has the desire and the passion and that's what the team needs. The hardest thing for new players at a club like Rangers, especially new foreign players, is learning what it means to play for a club like that. They can become sloppy or less professional, but if they look at Kenny, they'll understand. He's 37 and he still wants it."
On Sunday, against Motherwell at Fir Park, we can start analysing Rangers anew - and in his corner of south Amsterdam, Mols will be watching and hoping.
"When will they challenge Celtic? As soon as possible. I wish it was yesterday."