National Fans' Survey: Two-thirds of fans asked say clubs do not care about them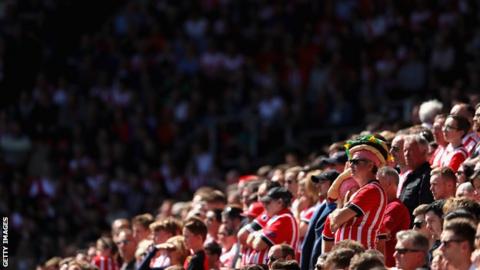 An influential supporters' group says there is a "worrying disconnect between clubs and fans", and most feel ignored on issues such as ticket prices.
The Football Supporters' Federation (FSF) has made the claim based on its National Fans' Survey, an online questionnaire which attracted almost 8,500 responses.
"Supporters want their clubs to listen," said FSF chair Malcolm Clarke.
Over 30 million fans attended Premier League and EFL games last season.
The EFL recorded its highest cumulative attendances for almost 60 years, with more than 18 million fans watching matches.
The Premier League has questioned how representative the survey is, saying the findings are at odds with its own fan surveys. The EFL pointed out its own regulations call for clubs to meet fan representatives "at least" twice a season, while adding its own fan survey this summer had attracted more than 22,000 responses so far.
Of those responding to the FSF survey, 68% said they felt their club does not care about their views, and the same number believed that Premier League clubs are too focused on growing a global brand.
Of those responding to the survey:
32% of fans feel their club cares about them and their views
90% said they wanted greater representation at board level
75% said grounds were more welcoming for ethnic minorities than 10 years ago
That figure rose to 80% among those who identified as being from a minority group
Almost 80% said they would be happy taking a young family to a match and 55% would like to see more family zones
80% of fans said the FSF should continue to campaign for safe standing areas in grounds
78% said it was important their club had local players representing it
"Fans understand that many clubs are now global brands. However, these results show that the majority of supporters think this can be to the detriment of local support," Clarke added.
"Supporters want their clubs to listen on other issues too, be that ticket prices, financial matters and safe standing.
"Clubs must commit to genuine engagement both online and in the real world."
More movement on ticket prices to come?
In March 2016, Premier League clubs agreed plans to cap away tickets at £30 for the next three seasons.
That followed an FSF campaign - 'Twenty's Plenty' - to cap tickets for away fans at £20, which was supported by fan protests.
Seven out of 10 fans said they wanted the FSF to continue to campaign on ticket prices, while 37% said they were attending fewer games than they used to.
Expensive ticket costs were one of the most cited reasons (36%) alongside work and family commitments (37%).
What do the Premier League and EFL say?
A Premier League spokesperson told BBC Sport: "The FSF survey is drawn from a small sample of its own members and we know from our own regular surveys, conducted by a reputable opinion research company to high professional standards, that the views expressed by FSF campaigners are not representative of all attending fans.
"We are confident that most fans are happy with the way their club is run and feel that their club is good at keeping in touch with them.
"Not only do our own surveys indicate a high level of fan satisfaction but the Premier League attendance figures - up 69.7% since launch in 1992/93 and standing at 96.5% stadium occupancy, the highest of any comparable league in the world - support the view that our clubs are working hard and successfully to engage with their fans."
An EFL spokesman echoed many of those views, saying: "More than 18 million people made their way through the turnstiles last season with our 72 clubs recording their highest cumulative attendances since 1959.
"EFL clubs also recorded having more than 500,000 season ticket holders for the first time, indicating that supporters' relationship with their teams has never been stronger.
"Having clearly defined lines of discussion between clubs and supporters is integral to the long-term health of the game, and the EFL strongly supports the view that clubs should have regular and open dialogue with fans.
"The changes to EFL regulations in 2016-17 ensure senior club officials and representative fan groups meet at least twice a season and after a successful first year, we look forward to seeing how this develops in future seasons.
"In addition, the EFL has been seeking the opinions of fans through our own Supporter Survey over the summer. To date we have had over 22,000 responses to the wide-ranging survey that addresses issues that are important to supporters.
"The insight is shared directly with clubs to support their own research and will be used to help maintain positive relationships with fans as we continue to offer all parties whatever practical assistance is available to us."
The National Fans' Survey 2017 had 8,495 respondents - it was launched on Friday 2nd June 2017 and closed on Sunday 16th July.