Kim Little targets Scotland return in April after knee injury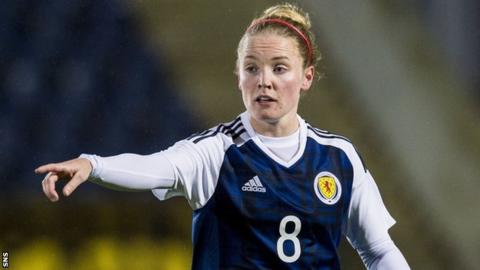 Scotland midfielder Kim Little has targeted a return to international football in April after missing the Euro 2017 finals.
Arsenal's Little, 27, ruptured her anterior cruciate ligament in May and Scotland begin their 2019 World Cup qualifying campaign in October.
"There's no chance of me making them," Little told BBC Scotland of the games against Belarus and Albania.
"My realistic aim is the second set [versus Switzerland and Poland]."
Little revealed on Sportsound she is "gradually starting to walk normally" following a knee operation.
"I'm five weeks post-surgery," explained 121-times capped Little. "Very slow right now but it's beginning to progress and it'll start to move a little bit quicker in terms of what I'm able to do soon."
Former Seattle Reign player Little has been working as a pundit at Euro 2017 in Netherlands and watched Scotland beat Spain 1-0 on Thursday only to miss out on qualification to the quarter-finals.
Earlier in the tournament, the Scots lost to England and Portugal.
"I accepted it quite soon after I did my injury that it wasn't meant to be," Little said of missing out on playing at Euro 2017.
"It's been great to be here and just experience something different and seeing the games from a completely different perspective to what I'm used to.
"I honestly couldn't be prouder of the girls watching the game live last night. They literally gave everything they could.
"I'm just excited to get back now on the field and to help us qualify for the World Cup in 2019.
"Qualifying was such a huge step for us. Although we didn't get through to the quarter-finals, which I do think we would've been capable of if we'd performed to the best of our ability in the other two games, we did end on a positive.
"We were really close to going through when people, I think, had definitely written us off.
"There's a lot we need to get better at and work on but we definitely took a step in the right direction."