Jersey Portuguese suspended from island football for one year
Last updated on .From the section Football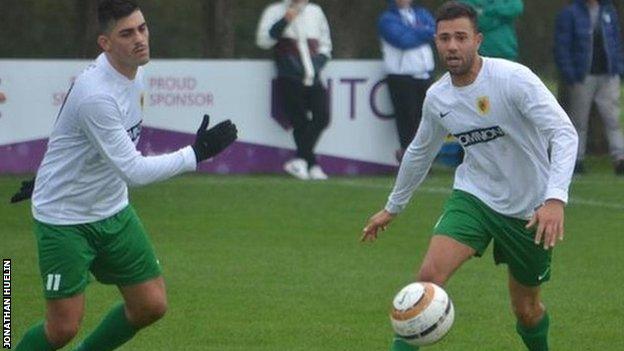 Jersey Portuguese have been suspended from the island's league and cup competitions for 12 months following a series of disciplinary problems.
Portuguese were already serving a suspended sentence for walking off the pitch in protest at a goal in 2015.
But clubs voted 18 to 1 in favour of a one-year ban after Portuguese confirmed they had released four players.
"They've shown remorse and they recognised that they need to do something," said Jersey Football Combination president Charlie Browne.
"What was once a very proud football club is being belittled a the moment."
Portuguese president Luis Viera declined to comment.
His side finished bottom of the island's Premiership last season, and would have been relegated to the Championship after winning just two of their 21 league matches.
They will be allowed to rejoin the Combination league for the 2018-19 campaign if they can demonstrate a solid business plan.
"They've expelled four of their footballers," Browne told BBC Radio Jersey.
"With the apparent willingness of the club to make change, it was proposed the league not accept the club affiliation for the coming season [only].
"However, should the club now show no evidence or appetite at all to prepare a robust business plan for the future to help them, then the league will not accept the affiliation for the second season."